Die, die, die again. Curse your enemy, curse the game, think of quitting, then pick the sticks back up and keep trying.
Miyazaki's work is interesting for reasons that go well beyond personal taste, individual linkings or specific sales figure, and they guarantee him a place in video game history.
Review in Spanish | Read full review
Despite being a different game from the ''Souls series'', Sekiro: Shadows Die Twice is equally fantastic for the same basic reasons: excellent world-building, deep and challenging combat and incredible game design. And even though there are still some small game design decisions that continue to bother me, in return I increasingly fall more in love with the general design philosophy of From Software every time I step foot in another one of their worlds.
Review in Portuguese | Read full review
Sekiro is an excellent action game that combines stealth, intense melee combat, and well-designed defensive options into an entertaining package. There are a few hiccups, but Sekiro is a title worth picking up if you're hungry for a challenge.
Sekiro is heralding the return of From Software to what he does best and it has some great innovations. Keep in mind that Sekiro will test your patience to the limit when you enter its merciless world.
Review in Turkish | Read full review
Heart-stopping swordfights and deft, panoramic stealth waged across another vast, gorgeously rancid From Software landscape.
A brutal, uncompromising action game with sensational sword combat. From Software has done it again.
Sekiro: Shadows Die Twice is a stylish, focused stealth-action take on the FromSoftware formula that evolves in a different and refreshing direction. It may be a bit easier than a Souls game, but it's something amazing all its own.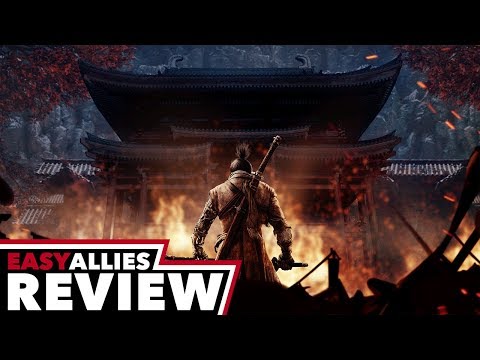 Its demands on players is as great as any FromSoftware game but persevere and Sekiro reveals itself as the most rewarding and nuanced ninja game in decades.
Sekiro has the best swordfights in any video game. It leans too heavily on its mediocre stealth, but its satisfying combat will keep you going through hundreds of brutal deaths.
Sekiro is a wild ride through narrative twists and shocking boss battles, and an amazing triumph or crushing defeat is only ever seconds away
From Software takes its unique brand of challenging gameplay to the stealth-action genre, and delivers something unforgettable.
Sekiro meets me with just as much effort and enthusiasm as I've put into it. It lets me know I'm capable and skilled, and that I can figure it out.
Ultimately, the question I had coming in was, "Will this be worth it?" After moving through countless cycles of life and death, tensing, raging, and finally, conquering my challenges and letting go of my anger like Buddha, I decided that it was.
Sekiro is a demanding and rewarding game. Harrowing to the point of emotional exhaustion, some players will bounce off after a few of the meaner boss encounters without the now-classic FromSoftware multiplayer. Brave individuals that persevere, though, will dig through a rich, textured game crammed with spectacular levels and enemy encounters.
Sekiro is a great game. Despite my complaints with its boss fights and the elimination of the equipment system Dark Souls was known for, it was a challenging and exciting adventure through Feudal Japan. If you're a From Software fan, it's a must-buy game, even with the changes, and it's a decent place to start even if you've never played a From game before.
Sekiro: Shadows Die Twice innovates to the point where people who are tired of the same old song and dance will find new mysteries to master, but still maintains that strong marriage of world building and sense of pride garnered from besting taxing conflicts.
A game absolutely essential for anyone who has enjoyed minimally the previous works of FromSoftware, but also for those who want to take the step with the study and have not dared; a masterpiece in every rule. Thanks, FromSoftware; Thanks, Miyazaki.
Review in Spanish | Read full review
Sekiro refines the Dark Souls gameplay, adding stealth mechanics and a perfect combat system based on evading and parring attacks. The japanese setting, art style and open map design complete an amazing game, which, again, can be too difficult for some players
Review in Spanish | Read full review