SteamWorld Quest: Hand of Gilgamech
If you like turn-based RPGs or card games, or both, then you can't go wrong with Steamworld Quest hand of Gilgamech, a funny romp thorugh a gorgeous (albeit small) world. Another enthralling game from Image & Form.
Review in Italian | Read full review
Steamworld Quest: Hand of Gilgamech is an excellent addition to the Steamworld lineup and a fantastic game on its own merits. The story is simple but charming, and the gameplay alone is strong enough to carry players to the end. The sheer amount of customization and variety in character builds and combat offers a lot of enjoyable content to players both casual and hardcore. If you're a fan of RPGs, then you should try out Steamworld Quest. It's one of the most enjoyable indie titles on the Switch to date.
Remarkably solid and satisfying, SteamWorld Quest: Hand of Gilgamech is a card battler with an abundance of charm in its art, mechanics and writing. The presentation is slick, the dialogue's witty and the gameplay's addictive, although nothing about it feels particularly special – not in the way SteamWorld Dig 2 felt special. It does what it does well, though, and it's still a thoroughly enjoyable time in that universe. As long as you're not expecting anything revolutionary, we recommend anybody who likes turn-based battling or who enjoyed any previous games in the series check it out.
The thing is, I would have played SteamWorld Quest for 40 hours, flaws and all. It's brief in more ways than one but charming as hell. I hope Image & Form continues to make games and, to go one step further, never stops creating SteamWorld experiences.
When taken as an overall package, there's no getting away from expressing how brilliant and addictive the card-based approach to RPG combat is here.
Priced at $24.99 / £22.49, SteamWorld Quest provides brilliant value for money. The genre blending turn-based RPG meets card game mechanics serve as a refreshingly addictive change of pace. It's all wrapped up in a polished, quirky and light-hearted adventure featuring fun characters and a beautiful hand-drawn art style. The game is a blast from beginning to end, and is well worth your time and hard earned cash.
SteamWorld Quest is a marvel in its own right, and a victory in a genre full of eternally popular bestsellers and beloved franchises.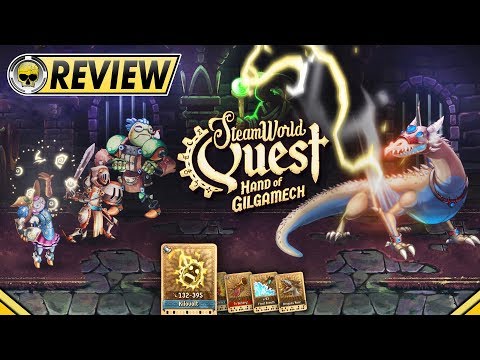 SteamWorld Quest is a delightful and epic parable about heroism and the ease of forgetting about it in times of peace.
Review in Italian | Read full review
A card-battling RPG enlivened with wit and character.