Bloodstained: Ritual of the Night is an excellent game in so many ways. It delivers on its promises and sets the stage for what I hope is more content to come in this new incarnation of Igarashi's masterpiece formula. There has been a lot of outcry about the Switch version of the game, and it definitely isn't perfect, but it's playable for the most part. Would I recommend it over other platforms? Probably not, unless being able to play on the go is a priority for you. If Switch is your only system, then you should still absolutely play Bloodstained, but set your expectations accordingly. If anything, Bloodstained is a strong enough game that it is still worthwhile despite the technical issues it has on Switch, which is a testament to the highs it can achieve.
All in all, Bloodstained: Ritual of the Night is exactly what it was marketed as: the revival of the Igarashi Castlevania games. It might not have Konami's IP, but it has the feel, the gameplay, and the style that no other game has quite been able to replicate. You'll love it if you're a fan of the franchise, and it's a great place to start if you're a newcomer. Some annoying design decisions and general performance issues hold it back. In the end, morning has come to vanquish the terrible night, and Bloodstained is hopefully the start of a new generation of Igavania.
Bloodstained has some mighty big shoes to fill but does so admirably. It delivers a classic, yet satisfying experience that fans have been wanting for years.
Is Bloodstained: Ritual of the Night a really good game? Despite having some issues, it certainly is and will absolutely satisfy nearly every old and new player. But is it as fresh and captivating as Symphony of the Night? Sadly, it's not. It just reintroduces features we've seen in the past and perfects most of them, and adds not much of its own to the formula. RotN is a fantastic game that just lacks new & innovative ideas, and a solid foundation for possible future installments to build upon and create groundbreaking titles
Review in Persian | Read full review
Great spiritual successor of Metroidvania with rich content and ancompromising difficulty.
Review in Slovak | Read full review
This is the Metroidvania we've all been waiting for. If you've never played Metroidvanias, this is an easy entry point (example: me). If you have, you'll adore its mechanics, absurdities, and inexplicable moments.
A worthy successor to the legacy laid out by Symphony of the Night that stands on its own with a compelling new universe and highly customizable build system.
Bloodstained: Ritual of the Night shows that Koji Igarashi's genius with the invention of the modern Metrovania genre wasn't just a singular event. Through numerous teams working together to bring his vision to life, Bloodstained has become a modern classic for the evergrowing genre.The links above are affiliate links. As an Amazon Associate, Wccftech.com may earn from qualifying purchases.
The wait was worth it. Bloodstained: Ritual of the Night is a whole new castle to crash full of unexpected monsters and mysteries in the vein of classic Castlevania.
Bloodstained: ROTN faithfully recreates the metroidvania experience of the 2000s—a feast for fans of a very specific experience; a bit too old-fashioned for anyone else.
The wait was worth it - this spiritual successor to Castlevania is a gorgeous, accessible 2D platformer stuffed with nostalgia.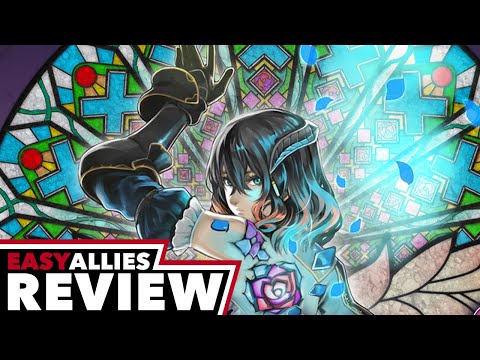 The best Castlevania game never made and while it adds relatively little to the formula it is the best example of its use in many years.
Ritual of the Night starts off a little too familiar, but quickly ramps up into an impressive exemplar of the genre it's retreading
Bloodstained: Ritual of the Night suffers on Nintendo Switch due to distracting technical issues.
Bloodstained: Ritual of the Night has been a long time coming, but now that it's here, fans of Castlevania: Symphony of the Night have everything to gain. Playing through Bloodstained feels great if you're already a fan of Koji Igarashi's work—and if you're a fan of action-adventure games in general. There are some unfortunate bugs, hitches, and glitches, but once you download the 1.02 patch, you should be through the worst of them.
Ritual of the Night is one of the best games released so far this year, and even if you don't love 2D platformers, the excellent exploration elements, movement, and combat are good enough to win anyone over.
Bloodstained is occasionally frustrating, refreshingly open, and as promised, wholly Castlevania. Hopefully some polish is on the way for Bloodstained: Ritual of the Night as to not alienate folks who are new to the genre, but as any Castlevania fan knows, partial jank comes with the territory.
Bloodstained: Ritual of the Night is not the perfect Iga-vania, but it is a worthy entry in the genre. It's clearly Castlevania in all but name and long term fans will find much to enjoy here, but it's lacking in polish and refinement with a few niggles with the controls and too many unwelcome bugs at launch. With a few more patches, Bloodstained should be the game all us fans wanted it to be.
Few games have managed to be as good as Symphony of the Night; Bloodstained not only manage to do so, but also refines and improves that same old formula for a new generation, becoming the true spiritual successor of the Castlevania series.
Review in Spanish | Read full review