Insomniac's reimagining of the original Ratchet & Clank is a vibrant reminder of how much fun 3D platformers can be.
Ratchet and Clank is a culmination of everything Insomniac has done with the series over the past 14 years. It takes the characters that we fell in love with long ago, and sets them off on their most gorgeous quest yet. The deep and rewarding weapon system, beautiful and varied worlds, and charming-as-heck story make it an adventure that anyone with a PlayStation 4 should strap in for.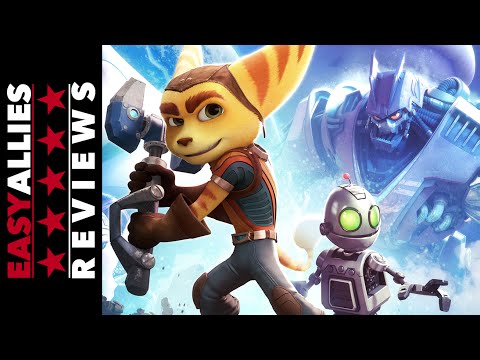 An excellent remake, with exceptionally good graphics, that borrows just enough from the later games to keep things interesting for new fans and old.
Despite some wonky tie-ins with the film, this is a gorgeous, thoroughly great platformer and a worthy reboot for Ratchet & Clank.
I couldn't put the game down, and I immediately jumped into the post-game Challenge Mode to play more of it
Ratchet & Clank is something worthwhile for fans new and old alike
Ratchet & Clank is a veritable power fantasy fueled by rockets and carried by specialty gadgets.
Insomniac reimagines a classic, making it more than a simple movie tie-in.
Ratchet and Clank is a terrific game that's a joy to play. It features exceptionally varied and interesting gameplay, from racing through dogfighting to puzzling - and, of course, plenty of platforming. Add to that an arsenal of truly entertaining weapons, excellent cutscenes, and superb graphics and sound, and you have a memorable game that represents a brilliant reboot for the series.
Initially, I wasn't all that excited to hear about a Ratchet & Clank reboot, but having actually played it, I don't mind seeing a resurgence at all. This feels like a last-ditch effort for Sony to bring this series into the spotlight again, and honestly, I hope it works out.
Anyone who is a fan of the series and/or is nostalgic for the original will surely love the jump to this PS4 remake. Ratchet & Clank is a great place to introduce newcomers to the dynamic duo.
I can't remember the last time I enjoyed a game as much as Ratchet & Clank.
Most of these additions and tweaks are bonuses or minor quality-of-life improvements learned from later games. The core is intact, unchanged, and still spectacularly fun. As the saying goes, they don't make them like they used to. Ratchet & Clank argues that maybe they should.
Ratchet and Clank is the epitome of everything Insomniac has learned over the years. It mixes the best parts of the series with new gameplay features and improved graphics to create an exciting adventure filled with charming characters, creative weaponry, witty humor, and a universe you won't soon forget. If you've played Ratchet and Clank games before you'll find this revisit like meeting an old friend you love. If you haven't, get ready for an exceptional experience you might not find anywhere else.
Review in Arabic | Read full review
Ratchet & Clank's comeback on PS4 is a truly enjoyable and intoxicating third person shooter. It really doesn't add anything to a well known formula, but it's a blast while it lasts!
Review in Italian | Read full review
Developing a reimagining of the original game instead of a sequel was a risky move, but it pays off handsomely with a robust weapon system and outstanding gameplay meshed perfectly together in the visually beautiful Ratchet & Clank.
A glorious looking debut for Ratchet & Clank on PS4 that retains the superb ebb and flow the series has always had. It doesn't do a huge amount new, but what's here is great fun.
Ratchet & Clank is a gorgeous remake done right in a series that rarely puts a foot wrong. Easily recommended.
Ratchet & Clank succeeds because it's a Ratchet & Clank game, which sounds like a ludicrous thing to say. What I mean is, it doesn't concern itself with being a movie tie-in, and I think that's helped by the fact the movie doesn't seem too concerned about being a videogame tie-in.