Toys for Bob has clearly done an excellent job bringing Spyro to the modern audience.
Spyro Reignited Trilogy is a joy to play through. There are a few issues with the port, but it's a beautiful game that's a joy to get lost in.
No Recommendation / Blank
Nov 13, 2018
Toys for Bob delivers another beautifully restored slice of 90s nostalgia, although the mechanics could have also done with a polish.
The Spyro Reignited Trilogy recaptures the magic of Spyro's original adventures in one nostalgic package.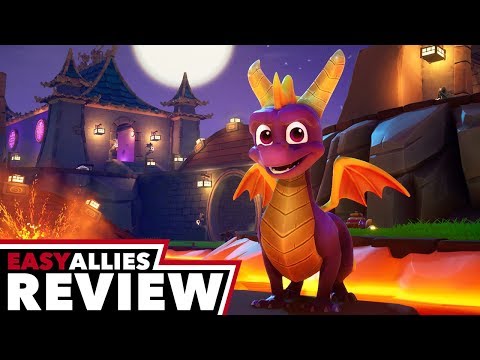 Remakes so good they flatter the original games, but whether or not they deserve this level of star treatment the end result is three enjoyable and accessible 3D platformers for all ages.
Spyro Reignited may not be as true to your memories of the PS1 trilogy as you'd like, but it holds up well and hasn't let go of its unique, kid-friendly charm.
All three games withstand the test of time and remain fun to play
Spyro Reignited Trilogy retains the magic of what made the franchise such a hit in the late 90s and early 2000s. There's a timelessness that lives in the core of the Spyro games, proving that the franchise can easily contend with other big names in the nostalgia wave.
Spyro glides into the current gen prettier than ever and as fun as ever.
There are plenty of things in Britain that aren't strong. The pound, the economy, my intestinal lining. But one thing that remains rock solid is our apparent nostalgia for the original PlayStation console. The launch of the PS1 was the moment that Britain apparently decided it wasn't "dorky" to play video games, thanks to trendy marketing tactics by Sony and a lot of demo pods in expensive nightclubs.As such, games like Crash Bandicoot, PaRappa the Rapper, and other cutesy characters, that your average Terry would have balked at in '93 as "for little kids", were now super-cool icons for the late teen/early 20's market. This nostalgic love runs deep even today, as exemplified by Crash's domination of the UK Charts for not one, but two summers in a row.Me, however, I wasn't sold. I didn't care much for the glut of 3D platformers that swamped the shelves in the wake of Nintendo's Super Mario 64. I was all about the punching and the giant spiders and the powerbombs. So, it's with a bit of sigh that I received my review code for Activision's Spyro Reignited Trilogy, which compiles three dragon-y adventures from the later years of the PS1. I played the original game way back when, but that has become a fog with time. Y'see, I don't particularly care for the genre, or the characters, or the starry-eyed nostalgia surrounding Spyro's brand.But the smug little bastard put me in my place, that's for true.
Toys for Bob's recreation honors Spyro's roots by using Insomniac's style as a template and naturally expanding upon it without losing sight of the franchise's soul. The result is a trio of titles that have brighter visuals, smoother controls, and more expressive animations while retaining the easygoing platformer nature that surprisingly fits quite well in the modern day.
20 years after its original release, it is still a great platform game, with the perfect balance between classic gameplay and new technical elements. On Nintendo Switch looks and feels great, especially on portable mode... but It's a shame that this port suffers from longer loading times and some FPS issues when playing in dock mode.
Review in Spanish | Read full review
Spyro Reignited Trilogy takes us on a trip back in time so as to not only dearly remember the original but also convince the player through new visuals and a gameplay with lots of fun. Despite the fact that the game may prove as too easy for some, and there are also several issues with the camera, it is still a great option when considering the cost and general quality of the game. Spyro is definitely back for good.
Review in Spanish | Read full review
As a package, Spyro Reignited is a fantastic experience, and Toys for Bob have done an amazing job in updating the series whilst maintaining its feel.
These are simple games by today's standards, but really, I kind of think it's what the industry needs—light-hearted, bright, satisfying, happy-go-lucky fun. Now, if you'll excuse me, I need to go 100% all the things.
In the end, the Spyro Reignited Trilogy is a great game whether you played the original ones or not. It reminds us how games used to be and still can be.
Spyro Reignited Trilogy are one of the most faithful remasters out there, however it still suffer from camera problems and couldn't escape the boring aspects.
Review in Arabic | Read full review
This remaster is one of the best examples of what technology can do to bring back a classic game to let the modern audience enjoy this timeless classics.
Review in Spanish | Read full review
A perfet gift for Spyro's fans. A colorful tris of adventures, right from the 90's. Who loved Spyro will continue to love it, who hated it will not change his idea.
Review in Italian | Read full review