Guacamelee 2 is a hilarious, challenging, and rewarding follow-up to Drinkbox's original. It expands on the first's ideas in so many great ways, and marries a complex but understandable set of moves to both its combat and platforming.
Colourful, characterful and disarmingly charming, Guacamelee 2 is a hit.
Guacamelee 2 is another champion-grade Metroidvania, provided you can handle some corny humor and retreading of old mechanics.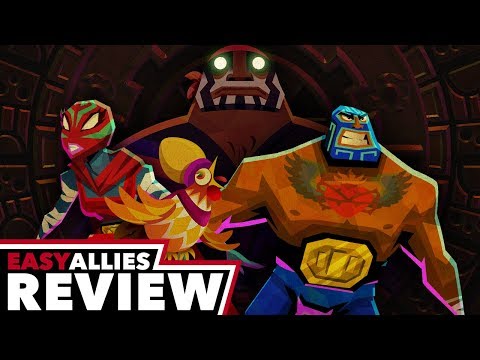 Only a small improvement on the first game but this is still one of the most original Metroidvanias around, in terms of both its setting and its gameplay.
Guacamelee 2 nails the Metroid formula while including its own style of combat and a great sense of humor
Guacamelee 2 doubles down on what worked in the original and presents the most formidable challenges yet.
A worthy successor to the first game, bigger in almost every way but without an inch of space wasted. But as it's grown in size and ambition, so too has the gulf between the herculean feats of strength Juan is asked to perform and the incomplete feeling of the universe he's doing so to save.
Guacamelee 2 builds on the same charm and platforming core as the first game.
Almost all of Guacamelee 2's positive attributes can be applied to either entry in the franchise. Both have smooth controls, a lovely soundtrack, clever dialogue, and a striking visual style. But ingenuity is the key differentiating factor and that's what drags down Guacamelee 2 from achieving the same level of greatness.
Not once during my playthrough of Guacamelee 2 did I feel bored or look at the clock, and once I was done, I felt compelled to hunt down everything I'd missed. It's yet another triumph for DrinkBox and they probably have at least one or two more of these in them.
Guacamelee! 2 provides yet again an exquisite metroidvania adventure where action, platforming and hilarous humor remain as its main assets. However, it lacks new elements to really make a difference.
Review in Spanish | Read full review
Guacamelee! 2 keeps the essence of the first delivery and takes it a little further thanks to new powers, enemies, levels, humor and winks. Although there are some sections more difficult and small screen failures playing cooperatively, it's one of the best action and 2D platforms proposals of the year.
Review in Spanish | Read full review
I'm not going to lie, Guacamelee! 2 is easily one of the most fun games I've played this year and it's hard to fault it even at its most infuriatingly challenging moments. The game has incredible presentation, great level design and is just as good whether playing solo or in co-op. If you're looking for a light hearted Metroidvania or 2D platformer to play on the PS4, then you need Guacamelee! 2 in you life.
Look at Guacamelee 2 as gaming's equivalent of NXT Takeovers or New Japan Pro Wrestling's annual G1 Climax tournaments. They may not feel overly different from each another, but there's no questioning their high quality and they'll leave you anxiously awaiting the next main event.
Guacamelee 2 is as good as the first episode: if you loved the original one, five years ago, you'll like this too. Wonderful art direction, great music, very good gameplay, just a little bit frustrating sometimes.
Review in Italian | Read full review
A game that's build over first's game basics, and manages to improve almost everything of that game, making Guacamelee! 2 an excellent metroidvania, but a less surprising game.
Review in Spanish | Read full review
Everything about Guacamelee! 2 oozes charm, from the slick, responsive gameplay to the art and music. The difficulty has a tendency to rocket up now and then, although overall it's not a particularly difficult game. If anything, the jumping feels ever-so-slightly tighter this time around, and the huge array of moves and abilities, once mastered, make for some truly exhilarating platforming. Beautiful, bonkers, and brilliant.
Guacamelee 2 is a brilliantly made game on the presentation front and its few flaws don't limit its enjoyment.
While its impact isn't as great as the original, Guacamelee 2 is a reminder of how good combat and traversal can feel when married together as they are in this 2D platformer-cum-brawler.