Metro Exodus offers a powerful story and a wonderful world but is full of technical errors and very bad artificial intelligence.
Review in Arabic | Read full review
It is a great game that had to smear itself in a layer of whatever-nothing to convince you that it belonged in a certain genre. But like the octopus pretending to be a rock, Metro Exodus is a brilliant creature in the guise of a worse one. With some time, energy, and emotional investment it springs to life.
Metro Exodus is a masterpiece in survival horror, and a game that evolves beyond its roots to transform into something truly special.
Powerful atmosphere, interesting locations, non-linearity and beautiful graphics should please fans of Metro and genre in gereral. If you are afraid of bugs, it is better to postpone the purchase and wait for patches. If not, you can safely run to the store. The game will not disappoint you.
Review in Russian | Read full review
Despite shortcomings like a rather by the numbers level of quality of side missions, poor performance both visually and audibly, Metro Exodus still manages to deliver a compelling experience. Thanks to its meaty crafting and gun customization, a beautiful character-driven story focused more on humans than the fantastical, and a world built around fear, desolation, and tension, Exodus will definitely be one of 2019's most talked about games by the end of the year.
"When a little girls asks you to get her teddy bear from a nest of giant, evil bat mutants, YOU GET THAT TEDDY BEAR."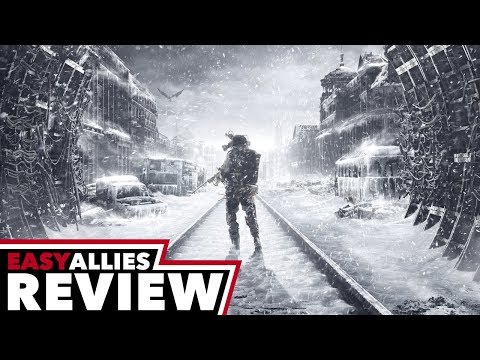 Metro Exodus is a great journey in a dark, dystopian world. the mix between open playgrounds and linear design is very well done, and there is enough content to keep you busy for quite some time.
Review in Arabic | Read full review
The game ultimately seems less interested in the process of how humanity breaks down than its grisly end results.
Metro Exodus does the most right and is far superior to its predecessors on virtually all points. The semi-open world is lovingly built, as is the interaction with the side characters. What stands out most, however, is the dense atmosphere that constantly makes us sit on full strains.
Review in Swedish | Read full review
Metro Exodus makes great progress in terms of open-world and battle system. And of course, it offers an outstanding thrilling story just like its prequels.
Review in Chinese | Read full review
Metro Exodus is an impressive experience, and by far one of the most ambitious sequels I've ever reviewed in my career.
Overall, Metro Exodus is an enthralling and gripping experience, marred a bit by lack of polish. The occasional glitches and sometimes rough enemy AI were a bit too noticeable to ignore, but did little to drag down my experience.
Boasting solid gameplay and one of the most compelling stories I've played in recent times, Metro Exodus' shift to the striking Russian landscape is not only a worthy successor to the previous entries, but one of the best shooters on the PS4 today.
Metro Exodus is an entertaining post-apocalyptic shooter that isn't afraid to take chances with the series' formula. There are still occasional jump scares, resources are scarce, and often times humans are your worst enemy. The addition of large, open levels really freed up 4A Games to make a world all the more detailed and believable. A few technical issues hold the game back a bit, but they are by no means a deal breaker. Fans of the Metro series shouldn't hesitate to pick up Metro Exodus at launch, and fans of survival horror should also find plenty to like here.
The fact that Metro Exodus also works for me as a newcomer to the Metro series and that I can now comprehend the often quoted strengths of the shooter cannot be denied. The balance between survival-, shooter- and stealth-gameplay, exploring the extensive areas and returning to narrow dungeons and tunnels, which are garnished with horror elements, is well done. I also liked the wonderfully refreshing reduction to the bare essentials in terms of HUD, markers and other ballast very much and intensified the immersion immensely. In the end, Metro Exodus entertained me well for about 20 hours, but didn't completely convince me. Nevertheless, the experience is worth a recommendation to me and Metro fans will probably take it anyway, although 4A Games has not only remained true to its strengths, but also to its weaknesses.
Review in German | Read full review
The devastation of post-apocalyptic Moscow in the grips of nuclear winter is even more breathtaking. Metro Exodus stands out as best in the series in terms of its atmosphere, much-improved gameplay and absolutely gorgeous visuals, from the snow particles to the water glistening in the distance, this is seen whether you are playing on PC, PS4 or Xbox One the graphical power of the game is amazing.
Metro Exodus took the series to the next level, it was a gamble to take the players out of the metro, but the game succeeded in that without compromising the identity of the series, while adding a lot of depth to the gameplay.
Review in Arabic | Read full review
Metro Exodus is a more than worthy successor to Last Light, successfully introducing open levels to break up the more linear sequences, while also retaining the unique look, feel and incredible atmosphere that made the previous games so memorable.
Metro Exodus is best when it follows the classic Metro formula, painting the world with tension as you dive deeper into the darkness of the world. While the game does suffer with a bit of an identity crisis at times, at the end of it all, the tension and fear that is peppered throughout more than makes the journey worth the trouble as players get their first look at a much bigger world and the dangers that lie within it.