Far Cry: New Dawn
Ubisoft could've done more to refresh Hope County for Far Cry: New Dawn, but there's still some good, chaotic fun to be had here.
An over-familiar follow-up, perhaps, but New Dawn whittles away the rough edges of Far Cry 5 for something extremely enjoyable.
It's Far Cry 5 again, on a smaller scale and with a post-apocalyptic paint job.
Far Cry New Dawn might be a spinoff game, but it's sure to have a lasting impact on what we think of when Far Cry comes to mind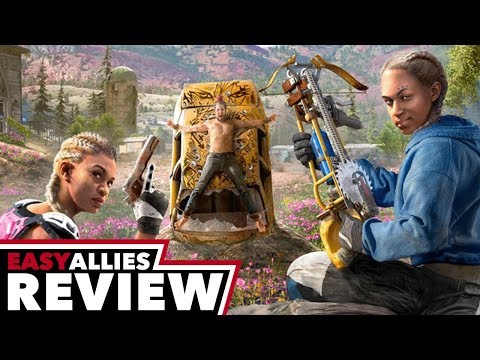 A direct-to-video style sequel to Far Cry 5 that's still perfectly playable but fails to make use of its own premise in any interesting way.
Superficial shakeups leave New Dawn feeling familiar to a fault for longtime Far Cry fans, but the gunplay is still satisfying
Ubisoft's post-apocalyptic continuation of Far Cry 5 doesn't feel as different as it looks, but it does have a worthwhile twist.
If Ubisoft had embraced the game's fundamental silliness instead of cutting its narrative off at the knees by spackling over it with morality, I can only imagine what kind of truly Mad Max-esque shenanigans would have been possible. Its enemies and I are both the villains, but they're allowed to be comfortable with their morbid, violent fun.
Far Cry: New Dawn cuts away some of the bloat of its predecessor Far Cry 5, to deliver a cleaner, more focused experience. The visual style breathes a good degree of life into a setting we've seen before, and Expeditions add more variety on top of that. The systems push you towards repeating content, but the boring rewards don't back that up. And hunting, once one of the core parts of Far Cry, is mostly an afterthought here. Despite those problems, New Dawn's short running time is a boon and the story provides closure to those who played the previous game. If you played and loved Far Cry 5, pick up New Dawn. If you didn't, know that it's still fun, but you'll lose some of the context.