Outerloop Games can be really proud of its first video game: Falcon Age isn't perfect, but it boasts a unique and undeniable charisma.
Review in Italian | Read full review
Falcon Age makes good use of the unique features of VR and conveys a very special feeling thanks to the relationship with the falcon, but the gameplay has more shadows than lights.
Review in Italian | Read full review
As it stands though, Falcon Age is easily one of the more memorable PlayStation VR games I've played and I highly recommend you get a virtual pet falcon of your own.
Overloop's Falcon Age is a compelling action-adventure game and highly original, deeply satisfying falconry simulator, making it a feather in the cap for PlayStation VR.
Falcon Age is a fun and interesting exploration of what happens to people being exploited by a megacorporation and how they can fight back. With the added twist of the faithful Falcon companion, this single-player game often feels like it is a co-op regardless if you are playing in VR or not. It's well worth the time for anyone who wants an interesting story with a lovable feathery sidekick.
Falcon Age's charming adventure made me care more for a virtual pet than I ever thought I could, and it shines in VR.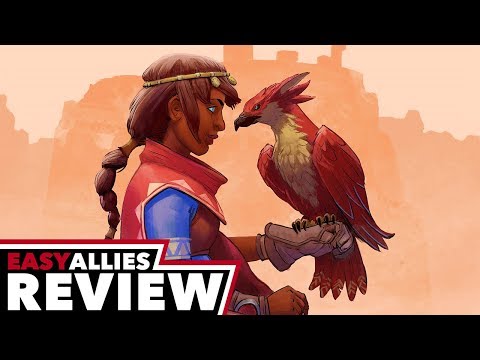 Falcon Age is a genuinely impressive achievement in the VR space. The unprecedented amount of interactivity between you and the bird plays host to the build-up of a worthy friendship, as well as an essential partner once the going gets tough. Alongside a deep and meaningful narrative, this is yet another PlayStation VR experience that belongs among the elite.
Falcon Age is a unique and charming game that is equally as impressive on the PS4 as it is on PSVR. The game features a cute falcon that you can share first bumps with in virtual reality but also features fun gameplay and a story with an important message.
Falcon Age gets its animal interactions right. Bonding with the falcon is an incredible experience, but the rest of the game just feels like going through the motions. Falcon Age suffers from following too much of a "video game" formula where it doesn't need to, which makes those elements noticeably stick out as sour points in something that is otherwise remarkable. There's still a magic here, but it's weighed down by unnecessary baggage that feels disconnected and separate from the central conceit of the game.
Falcon Age was a joy to play, I loved looking after and interacting with my new found friend. Its design and personality made it feel real, especially in VR. The VR implementation was flawless and I would even go as far to say that this is definitely the way to play the game.
The titular falcon in Falcon Age is awesome. Sadly, it's also about the only good thing the game has going for it.
Although Falcon Age is far from perfect—with an overly ambitious story and an annoying amount of backtracking—it has a lot of heart. Outerloop captures the themes of oppression and captivity well and creates an ending that reflects this while keeping the game light-hearted and friendly. Falcon Age is a short, but sweet, experience for all ages that pet lovers will particularly enjoy.
It foils its early potential by shifting focus from its avian star to a narrative and world that lack charm and excitement.
alcon Age is a nice little gem that soars to the skies while having a carrying rough feather
Falcon Age's narrative is touching and sincere. The concept of bonding with a pet or companion to accomplish your goals is not one that has been overdone, and will appeal to many players. Technical issues aside, Falcon Age is a welcome title that not only helped us see a different angle of modernization than we are used to seeing in the medium, but was also incredibly cute and enjoyable.
Falcon Age is about more than the bond between you and your (adorable) bird. It's about reclaiming your culture, and it's a story told beautifully.