Crash Team Racing Nitro-Fueled's difficulty, memorable track design, and addictive power-slide mechanic make it a kart racer worth playing but it's not without its frustrations.
Crash Team Racing: Nitro-Fueled is a gold-standard remaster, capturing the loveably janky, off-brand spirit of classic CTR - and then some.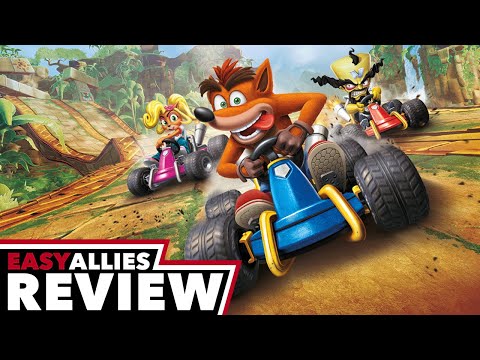 The best Mario Kart clone of the nineties is also the best Mario Kart clone of the 21st century, with a stunning remake that offers welcome refinement and improvement.
This faithful recreation of the once king of kart racers means Crash Team Racing has seized the throne once more, with enough content and a high skill ceiling to keep players returning for years.
Beenox did a great job preserving the original content, and found avenues to add to it in meaningful ways
Crash Team Racing feels as good now as it did 20 years ago. The Bandicoot is back, baby.
Crash Team Racing: Nitro-Fueled not only succeeds as a loving and faithful adaptation of the classic PS1 release, but it has been turbo-boosted by a glut of welcome new content including characters, tracks, and modes. Though it occasionally shows its age in course design, and erratically pumps the brakes with a surprising difficulty spike, Nitro-Fueled remains a fast and fun kart racer, sure to please old fans and worthy of a test drive from new ones.
Despite those bumps in the road, Crash Team Racing Nitro-Fueled is both a respectful reimagining and a superb, modernized kart racer in its own right. It accurately borrows from its inspirations and enhances their qualities in ways that feel true to what Naughty Dog would have done if it had the hardware.
Crash Team Racing Nitro-Fueled does a great job to revive an experience of pure fun in the field of driving. With a team of pilots that exceeds the figure of 20 - just like the circuits -, a sweet memory and a visual section perfectly adapted to the current times, we can safely say that Crash Team Racing Nitro-Fueled is about everything nostalgic could have asked.
Review in Spanish | Read full review
A comprehensive, colorful and varied racing game that will appeal nostalgic gamers as well as nitro junkies.
Review in Spanish | Read full review
First there was the N. Sane Trilogy and now there's Nitro-Fuelled. Activision's Crash Team Racing rebirth is more than a quick cash grab – Beenox has modernised an all-time classic with such evident passion, making this the best kart racing game we've seen on PlayStation or Xbox for many, many years.
If you're looking for a new (technically old) kart racer to dive into and give your all, this is definitely a great one to add to the pile, especially if you've gotten your fill of all the iterations of Mario Kart.
Nostalgia might well have carried this one through, but in truth it doesn't need it: this is a great game that has for the most part aged remarkably well, with the visual upgrade and other tweaks serving to make absolutely certain it's worth the price of admission
The classic CTR return faster, bigger and even better.
Review in Italian | Read full review
Crash Team Racing Nitro-Fueled is still the best alternative to Mario Kart. Its cast of charismatic characters, its gameplay and power-ups, as well as its race tracks are at a high level. It is a pity that this remake has almost no new content and is limited to remaking the original CTR and Nitro Kart.
Review in Spanish | Read full review
Crash Team Racing Nitro-Fueled is a fantastic remaster, filled with great courses and plenty of replayability, even if the difficulty sometimes feels off.
Not just a 1 to 1 remake like Crash Bandicoot N. Sane Trilogy, Crash Team Racing Nitro-Fueled comes with the content you love from the original as well as additional tracks from a later entry in the series as well, proving that everybody's favorite Bandicoot still has plenty of gas in the tank.
Crash Team Racing Nitro-Fueled has more content than most other kart racers in existence, but the game's stiff difficulty will be polarizing for players.
Crash Team Racing: Nitro-Fueled has the thrilling speed and the addictive gameplay of the original and adds a metric ton of extra content for fans and newcomers to enjoy. Whether you're new to the frantic frenzy of Crash Team Racing or you've been hankering for a chance to play as Nitros Oxide himself, there's a whole lot of things to love