Luigi's Mansion 3
As you progress through the game, the story is about luigi trying to rescue his friends, who have all been put into picture frames. So armed with his handy Polterguster 3-00, the third of its kind, handy as this is the third game in the series. Luigi progresses through the hotel, one floor at a time, gaining access to the next floor of the hotel once the previous "boss" ghost of each floor has been sucked up and dropped the floor button for the lift. Each floor has its own theme to do with the hotel, but personally I believe that Nintendo run out of hotel themed floors, or didn't want people to just keep inspecting random hotel rooms filled with beds for the whole game. So when you reach floor 4 and higher, the rooms becomes different each time with some ranging from museums, film studios, to even a full on pyramid. This makes the game so intriguing to find out what awaits you on each floor.
GREAT - Luigi's Mansion 3 features stellar graphics and amazing music, creating a charmingly spooky experience that's dying to be explored. Each floor features unique environments and stylish ghosts that are fun to interact with. Awkward controls that may take some getting used to and weak rewards for solving puzzles (money that serves little purpose) drag down what is otherwise an excellent candidate for Switch game of the year.
A new spin on the series sees Next Level Games serve up character and charm in abundance.
Luigi's Mansion 3 is so fun, charming, and smartly designed that I hope we get more than three of these every 20 years.
Luigi's Mansion 3 takes you on a memorable spooky adventure packed full of creative puzzles, fantastic level designs, and oodles of charm.
A wonderful single-player and co-op adventure that's entirely self-contained and effortlessly charming from beginning to end.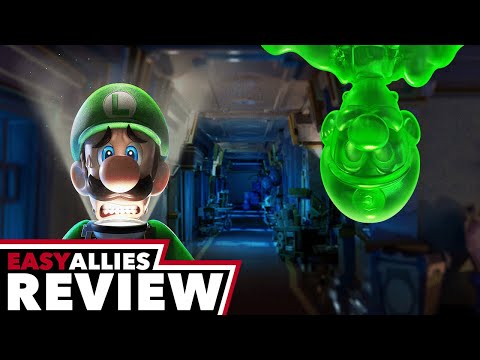 Creative environmental puzzles and unique boss battles make this a rewarding experience from start to finish
It took three games, but Luigi's Mansion 3 has that Nintendo magic
Luigi's first ghost-filled adventure on Switch offers up another satisfying blend of exploration and puzzle-solving.