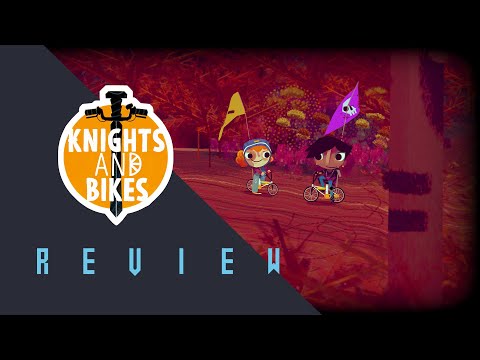 Knights and Bikes presents a superb adventure that will definitely stick with you for a long time.
Knights and Bikes tells a touching, albeit overlong, coming of age story about friendship and grief.
Light on action but humorous and made with love, Knights and Bikes holds something for adults and kids alike.
One of the best story-based games of the year, that manages to capture the joys and pains of childhood (and riding bikes) in a very relatable and compelling way.
Even when the action gets predictable, the charming presentation and small touches keep the sense of adventure alive
Knights & Bikes is an endlessly charming, knock-about adventure.
The charm that covers nearly every inch of this game is also infectious, especially as this medium can better actualize its main characters' imagination into something playable.
Although it's best played in co-op mode, there's a fair amount of fun to be had in playing alone too. Throw in the fact that Knights and Bikes features clearly defined mechanics along with some powerful instances and you've got yourself quite the charming indie experience.
Knights and Bikes is a lovely warm blanket of childhood adventure and imagination, and a perfect game to play with a young family.
This endearing game weaves a touching story of families and loss into a nostalgic odyssey through 80s seaside holidays
Knights and Bikes may not be an epic AAA game but it has some originality and fun to offer nonetheless. Strap on your helmet and take a relaxing ride with two quirky kids whose touching friendship will take you back to your own youthful innocence.
Knights and Bikes captures the heart of childhood imagination. It's a largely carefree experience with limited mechanical substance, but that's part of the reason it works. It's a great family-friendly co-op game and balances its silly sense of humour and childlike joy with some of the melancholic reality of growing up.
Knights and Bikes did entirely not captivate me. That said, its sincere leading characters and exquisite art are certainly aspects to be admired.
Knights and Bikes serves as a powerful nostalgia trip that'll take you back to your imagination fuelled childhood adventures.
Two friends and their goose are on an adventure to save the quirky citizens of Penfurzy Island.
With a whimsical, delightful story that isn't afraid to get emotional, Knights and Bikes is a charming adventure that is perfect to tackle with a good friend.
Knights and Bikes is a fun, frantic, top-down adventure game with some light puzzle and combat elements that I imagine would be more appreciated by either a younger crowd or a parent playing with their kid. If you're looking for a solid co-op adventure, this can easily fill the void. Even solo it's still fun enough to be worth a look. Just be ready for a few awkward moments, and a seriously terrible UI.
The simplicity of Knights and Bikes lies within its need to revisit your childhood and remind you how much fun life can be, even when the storms are intense. It brings a great narrative to the table, throws some fun puzzles in the mix while delivering beautifully playful visuals that request you go on an adventure with a good friend. The game's intentions of stupid fun might outweigh its execution, but it succeeds in capturing the imagination and delivering a fun experience that doesn't take itself too seriously.
Knights and Bikes is a half a game and half an '80 teen movie, a beatifull story of friendship.
Review in Italian | Read full review