Jet Kave Adventure
While moment to moment gameplay can be fun, the overall process is just too repetitive for a genre that already has so many unique and innovative games in it.
Jet Kave Adventure will be on nobody's Game of the Year lists, but that really doesn't matter. What it does do is provide a reasonably solid 2.5D platformer that will keep you entertained for a few hours (and beyond, if you want to try to beat all the optional objectives).
Jet Kave Adventure looks good but feels uninspired and altogether too easy for the type of game it is. Considering the strong competition on the Switch, it's hard to recommend this one to any but the most die-hard platformer fans or the younger gamers out there looking to dip their toes in the genre.
Jet Kave Adventure is a fun action/platformer that anyone can enjoy. It's a little on the short side (for the price) and could use some extra features to keep the player interested, but it looks great and is easy to play.
Jet Kave Adventure is a fast-paced, mechanics-heavy platformer with a great sense of style.
The level art is gorgeous and does a great job to enliven the sci-fi-imbued prehistoric world that the developer has created, but the platforming itself is far too uniform and simplistic to retain the player's interest.
Jet Kave Adventure is full of rewarding scenarios but it could have definitely used more time in the oven before it released.
WORTH CONSIDERING - Jet Kave Adventure checks all the boxes for what a sidescrolling action platformer should be, but it doesn't go above and beyond to create a lasting impression. What's here is solid and there are some fun levels to play through. The soundtrack is pretty boring, but the graphics are pretty to look at and the jetpack gameplay mechanic is enjoyable. This is a good pick up if you're yearning for more platforming on a system filled with platformers.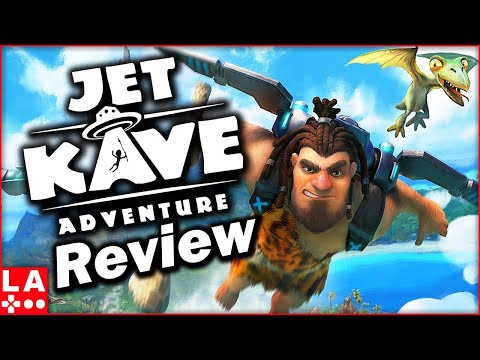 Jet Kave Adventure offers a fun ride, but one that ends all too soon.