Dissidia Final Fantasy NT tries to spin too many plates at once. As a team-based arena combat game, it creates some interesting battles but comes up short against the depth and accessibility of something like Overwatch. As a fighting game, it fails to find a balance between the challenging execution of a Street Fighter and the pick-up-and-play chaos of a Super Smash Bros. And as Final Fantasy fan service, it ticks some boxes but has some glaring omissions in its lineup and surrounding features. Even those who consider themselves Final Fantasy completionists aren't going to have enough story content to keep them playing for long. That's frustrating, because when its various parts all come together in harmony it is a fun, unique team fighting game.
No Recommendation / Blank
Feb 2, 2018
The all-star fighter returns via the arcade for a deep, characterful game that struggles to endear itself to fans and newcomers alike.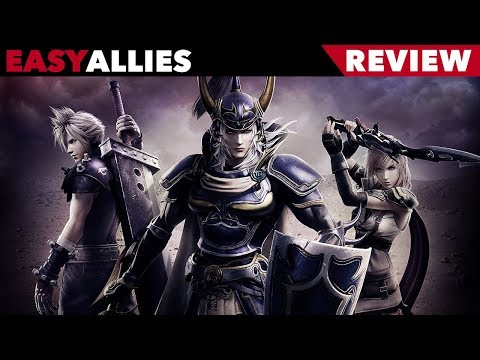 The Final Fantasy crossover gimmick almost feels like a distraction in what remains a uniquely innovative, but also frustratingly flawed, fighting game.
This succeeds as a collection of fun Final Fantasy characters, music, and moments. However, the core multiplayer experience is severely lacking in every respect
Square-Enix and Team Ninja have brought its popular arcade-fighter Dissidia Final Fantasy to the home platform, but it unfortunately isn't able to live up to the series it seeks to celebrate.
I had fun with it, but I wasn't blown away by it, and Dissidia Final Fantasy NT is an excellent example of why nostalgia is never a substitute for proper gameplay.
Dissidia NT is fun to play, but it could use a few tweaks that could easily come as low-effort updates along with its existing premium DLC. More modes, some UI tweaks, and combat flow upgrades would go a long way.
For any Final Fantasy fan, Dissidia NT has plenty to offer, with an array of the series' best loved characters, and plenty of chaotic combat to pit them in. Unfortunately the lack of definition to those encounters, messy UI, convoluted single player progression, and a barebones selection of modes saps a good chunk of the fun away.
Dissidia mixes the charm of a series as beloved as Final Fantasy with a battle system that's equal parts fun and different from anything we're used to see in fighting games, but lacks in variety and modes. If you love Final Fantasy, then you'll probably love Dissidia Final Fantasy NT.
Review in Spanish | Read full review
Dissidia Final Fantasy NT is an amalgam of both positive and negative design choices, but overall it's an excellent combination of interesting fights, varied characters, and entertaining fan service.
Dissidia Final Fantasy NT is the very definition of a mixed, middling experience, though when its combat shines it produces real magic with enormous potential.
No doubt if you are a fan of the Final Fantasy series you will be thrilled when you experience this game, it is a good fighting game and Team Ninja Studio has done a good job of developing the game's gameplay, but in contrast the presentation mode of story may be the worst I have seen with a slightly complicated user interface may quickly tire you of it, unless you are obsessed with the Final Fantasy world.
Review in Arabic | Read full review
Bustling and fun, it has quickly become every Final Fantasy'a fan (and new aquaintances) forbidden dream. Dissidia Final Fantasy it's waht we can call fanservice at its best.
Review in Italian | Read full review
A great homage to Final Fantasy series that may not be the best fighting game, but as it is, is an interesting and different take on the genre.
Review in Spanish | Read full review
The thing is, what Dissidia NT does do well is hamstring itself from actually being good.
There are a lot of fighting games currently in gamers' minds, and Dissidia does little to steal any of that mindshare.
Final Fantasy fans will likely be enamoured with the array of classic locales to battle in, re-imagined songs from previous games, and the impressive roster of fighters on offer here, but it's all downhill after that. Dissidia Final Fantasy NT is a disappointing fighting game that crumples under the weight of poor design choices and crippling technical issues, leaving little reason to recommend it to anyone other than fervent supporters of the brand.
The third entry in the Dissidia franchise is a good one and fans of the franchise shouldn't miss out on this entry. With a massive roster of characters and entertaining combat, the core Dissidia mechanics are safe and sound. It's just a shame that this entry feels so bare bones, not only with its lack of game modes but in its story execution.
Dissidia Final Fantasy NT should be a celebration of the series as a whole and instead makes the franchise feel washed up. Character interactions are nice and graphics are definitely pretty, but mechanically the game feels behinds its competition and far more frustrating. Only recommended for the most hardcore of Final Fantasy fans, but even then, no local multiplayer? What's the point?