The first half of Jazzpunk is a non-stop deluge of gags and entertaining minigames, but it can't keep up that pace.
Perhaps I don't need to tell you that this game made me laugh - not gently or under duress of slow realisation, but in staccato outbursts which alarmed and unsettled passers-by.
Stylish, inventive and easily one of the funniest games in years. Jazzpunk just wants to make you laugh. Don't worry, it will.
Not quite Scary Movie but certainly not the video game equivalent of Airplane, although the fact that it even tries to be is almost recommendation enough.
Jazzpunk is uniquely ridiculous and undeniably hilarious. It's not afraid of making you work to find all the funny, which turns even the tiniest throwaway joke into something special.
JazzPunk is good for a few chuckles and the novelty of how absurd the game is
Loads of humor and outrageousness make this cyberpunk indie adventure worth playing.
Jazzpunk doesn't aspire to be an excellent shooter or platformer. Instead, it aspires to and succeeds in having a great conversation with the player.
Jazzpunk is beautiful, beguiling nonsense.
By the time I finished Jazzpunk, I was both left wanting more of its crazy world and feeling slightly underwhelmed. Many of the jokes felt a bit too random for their own good, and the story kind of just ends with no real resolution. If you're not the type of person who likes to roam around miniature sandboxes and locate every single hidden secret, Jazzpunk may not be for you. But for everyone else, you'll revel in the ability to play a completely missable game of Fruit Ninja with Jim Sterling.
Jazzpunk ends up being scatological and surreal, but it's not sublime. Like Meatloaf says, two out of three ain't bad. But when's the last time anyone listened to Meatloaf? Jazzpunk is funny in its own peculiar way, but that's about all it is.
In all likelihood, you won't see everything that Jazzpunk has to offer the first time around. There are zingers tucked away in every nook-and-cranny that will only reveal themselves to you if you want them to. In so many cases, you are the key to the punchline. Without you, the clever quips stay hidden and will remain unearthed until you say so. Jazzpunk invites you to get involved in the comedy and, in many ways, become the butt of the joke. Funnily enough, there actually is a butt joke in there.
When all's said and done, that's a fantastic way to take a break from reality for a couple of hours. For all my gripes, I'll be surprised if any other game this year makes me laugh as much as Jazzpunk did.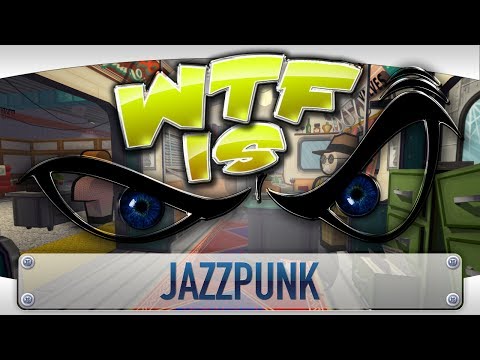 Developer Necrophone Games and publisher Adult Swim deliver the ultimate playground in 'Jazzpunk', a game that lacks polish but makes up for it with a focus on fun.
Necrophone Games has a fantastic premise, a decent execution and a brave narration in Jazzpunk. Had I not had the pressure of trying to get through this for the purpose of review, I would have had far more laugh-out-loud moments, rather than a quick acknowledgements and the occasional laugh. At $15, there is some quality time you can get with this indie Steam title. Watch the trailer – if you're even the least bit curious, I say go for it.
What's here is undoubtedly high quality, but some may find themselves just wanting more of the game. It's a blessing and a curse.
Debates still go on as to whether video games have had their Citizen Kane moment, but with Jazzpunk we can at least rest easy knowing that games have had their Naked Gun moment.
As a "game" Jazzpunk could be completed in less than an hour, but running through to complete the story would be missing most of what makes it so enjoyable. The game (and its achievements) are structured in a way that encourage players to wander around and see everything there is. Even having completed the game I'll be going back through it again, just to catch some of the things I missed.
Necrophone Games does interactive comedy right in Jazzpunk, a surreal adventure in which the laughter is its own reward.