Travis Strikes Again: No More Heroes has Suda51's eccentric charm, but the repetitive hack and slash gameplay doesn't feel nearly as great as previous entries in the series.
A limp arcade action game amidst a sea of mindless references, Travis Strikes Again fatally lacks the style of its predecessors.
A disappointing return for Suda51 whose shallow, repetitive action is not helped by a relentlessly unfunny script and tired pop culture references.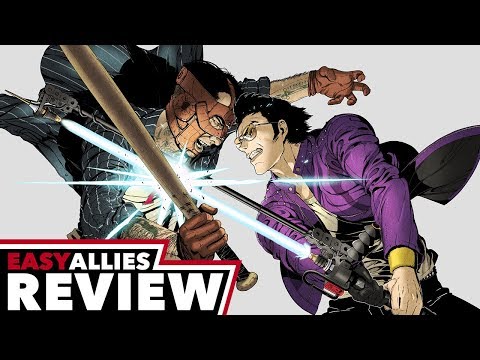 Travis Strikes Again returns to the more stylish tendencies of early Grasshopper Manufacture, with decent combat elevated by a strong sense of style and writing
Travis Strikes Again succeeds as a simple hack-n-slash with seamless co-op, but doesn't do enough to avoid repetition or challenge you in meaningful ways.
I missed Travis Touchdown. I missed Suda51's punk verve. Travis Strikes Again is stylish in all the right ways. It looks cool, the music sounds great, and the game consistently zigs when I fully expected it to zag. At the same time there's not a lot here for players who aren't already devoted to the world of No More Heroes or even the larger Grasshopper Manufacture universe. But if you're tired of hacky attempts at too cool for school meta commentary, Travis Touchdown is here to take gaming post-post-modern.
Travis Strikes Again has some undeniable lows but the No More Heroes charm and the prospect of co-op lifts it up. Whether it's learning the intricacies of individual types of ramen or watching Travis curse at a talking cat, this is something that could only be born out of the mind of Suda 51 and his team at Grasshopper.
There are plenty of amazing mindbending moments in Travis Strikes Again, but you have to work for them. If you're willing to play a decent brawler that's regularly interrupted by junky D-grade platforming to get to the madness, you'll get a lot out of it.
Travis Strikes Again: No More Heroes is a spin-off that offers lots of fun and action elements. At the same time, there is also room for some philosophical moments that add on to the overall fun of the game.
Review in Spanish | Read full review
If you love No More Heroes, or any work of Suda51's, then Travis Strikes Again is a must-play game.
Suda Goichi pays homage to some of the best indie games with Travis Strikes Again. We found lots of pop culture references, a unique sense of humor and some unique mechanics, although some elements such as camera and jump controls are not polished, and combat becomes repetitive.
Review in Spanish | Read full review
Technical issues, strange gameplay decisions, and an overall lackluster series of features make Travis Strikes Again: No More Heroes an unworthy placeholder for the next entry in the series.
If you like Suda51, there's enough here to keep you hooked. Otherwise, tread cautiously.
This game isn't No More Heroes 3. Suda51 and his team have released this Travis Strikes Again while they wait for the third great chapter of the saga. It's good that this game has a reduced price because it feels fun but simple, like a portable console video game.
Review in Spanish | Read full review
Travis Touchdown's return is full of craziness, just as you would expect from Goichi Suda. Unfortunately, is also a repetitive and aesthetically disappointing action game.
Review in Italian | Read full review
A worthy followup to the Wii cult classics, Travis Strikes Again: No More Heroes is a fun and action-packed hack-and-slash adventure, when it isn't getting in its own way.
Not quite the glorious return we wanted for Travis Touchdown, for all of this game's desire to be weird it does a better job of making itself uninteresting.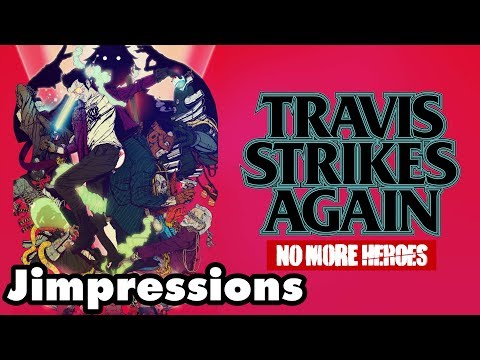 Travis Strikes Again: No More Heroes is outrageous. The game is uncompromisingly zany: full of smart design, fluid combat, and laugh out loud personality front to back. While some may be turned off by its low budget feel and disjointed design, those who can look past these rough edges will find a hack-and-slash so quirky that it'll be tough not to fall in love. This title stands as a shining beacon of bold creativity and anyone who values risk-taking in games owes it to themself to give Travis Strikes Again a shot.