Ironcast
Rating Summary
Based on 39 critic reviews
OpenCritic Rating
Based on 39 critic reviews
Like most roguelikes, though, the true game is about fighting back against the randomness, and you do this with each lesson you learn about the sorts of augmentations to prioritise, and each trick you uncover for minimising battle scars and maximising scrap. If you've got the stomach for the learning curve, you can probably cut it in this army. And if you can, you'll discover a game that's tense and personable and clever.
Ironcast is a smart and funny game that perfectly fit the Nintendo Switch library. Its roguelike mechanics, otherwise, are a bit dull.
Review in Italian | Read full review
Ironcast is a solid strategy game, easy mechanics and a deep level of customisation makes it worth coming back to.
A decent strategy puzzle-RPG that displays all the good bits and mitigates the bad ones, pip pip.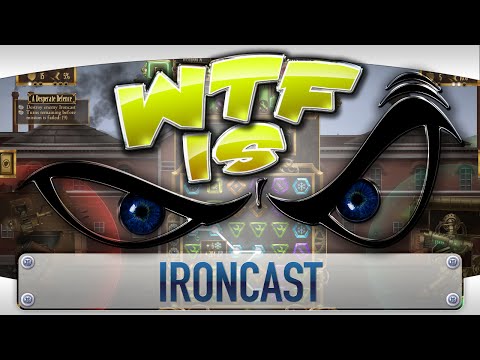 The story is a touch blandly presented, but hardly an important factor in the scheme of the game. It's completely novel, and that's a rare thing to say about any game, and even rarer to conclude it succeeds in its originality.
In the end, Ironcast is easily a fun game that you can get caught up in while playing. It keeps you engaged and planning, but not to the point where it becomes a chore.
Having to re-start the game after every death can be absolutely soul crushing but the satisfaction you get from winning an exhausting battle against an enemy Ironcast is remarkably satisfying.
Ironcast is a surprisingly strategic and complex game, while will hold your interest for quite a while. There's enough randomisation for the title to feel fresh for a long time, and every battle is one of tension and risky moves, with each action really meaning something. Winning a skirmish feels very satisfying, with the rewards after feeling even better, and though the difficulty may put people off, those who can grin and bear the painful defeats will be treated like un prince.
Ironcast has a fascinatingly complex base game, filled with myriad details to keep track of and a brilliant sense of strategy. Unfortunately, while serious tacticians will find themselves enjoying the nightmarish difficulty, anyone looking for a lighter challenge will be left in the dust, as permadeath and a merciless RNG slow progress to an unsatisfying crawl. That may seem like a personal problem rather than a serious criticism, but there is so much richness here that a lot of players will probably never get to see — repeating the same missions over and over again is only fun for so long, and "so long" is exactly what I said to Dreadbit's fiendish genre-blend.