Fast Racing Neo is a grueling, rewarding racer. The temptation to chuck a controller across the room after instantly jumping from first to last will likely strike a handful of times, and it's a bit thin on customization options, but when all of its high notes line up, Fast Racing Neo is an exhilarating, devilishly grueling game that absolutely pulses with energy.
Fast Racing Neo offers a welcome and competent substitute for the long-absent F-Zero that's light on extras, but commanding on the track.
It certainly looks the part, but although this never plays quite as well as F-Zero GX it's close enough that most fans will forgive its lack of refinement.
The racing is fast and exciting, but a lack of activities beyond simply nabbing first place pulls the game back
It's this challenge vs. reward dichotomy that makes FAST Racing Neo worthwhile. It's not quite F-Zero; it may look similar, but only in the way that cousins do, even though one's favored by the family, so the other one punches you when you're not looking for no reason. But even though it's not exactly like an F-Zero, it certainly deserves a place at the family dinner table. It's a futuristic racer for gamers who are serious about their racing, even when we hit the future at over 300 miles per hour.
Fast Racing Neo made a strong impression right off the bat, and is easily one of my favorite games this year. It's fast, it's responsive, it has a compelling color-switching mechanic, and Hero Mode provides a stupidly fast-paced challenge that's going to last me quite some time. I have very little bad to say about this game beside the fact that the resolution dips in split-screen. When that's the worst you can say about a game, it's pretty darn impressive.
Fast Racing Neo isn't F-Zero, nor is it Wipeout, and it's definitely not Ikaruga. It is, however, a shining example of futuristic racing that'll help fill a void in Nintendo's Wii U catalogue. While its difficulty level may not be as welcoming as most modern gamers are used to, those who persevere will discover a pure racing experience that manages to retain its own identity.
An addictive game that succesfully replicates the F-Zero formula. With bare-bones mechanics and production values, it still is one of the most enjoyable Wii U game available on the eShop.
Review in Italian | Read full review
Though the steep difficulty may make it less accessible to some gamers, FAST Racing Neo looks fantastic and performs very well in action, making this one game to not let race past you.
It won't be for everyone, but this is a brutal and unwavering assault on the senses, made for the most hardcore of racing fans.
FAST Racing Neo is a simple game, its roots clearly planted in a simpler time. It's good, honest, fast, arcade fun, priced perfectly to match its ambitions.
I love that this game exists. It checks the boxes that it absolutely needs to hit.
Fans who enjoyed the F-Zero series won't want to pass up FAST Racing Neo. While a bit more difficult than the classic Nintendo series, most of the core gameplay is very similar while adding a couple of new mechanics. While the multiplayer is a bit lackluster in customization, there's a lot of single player racing to challenge players for quite a while. Fans of fast-paced racers won't want to miss this one.
One of the Wii U's best racing titles, for a great price. Get this game, Wii U owners. You won't regret it; it might not live up to F-Zero's legacy, but what's on offer here is well polished and a lot of fun.
There isn't much else to say about the game, but I cannot recommend it enough. Fans of those types of racing games will be in awe of what Shin'en has accomplished here. I know it is cliché to say, but please give this team the rights to make a new F-Zero game. Fast Racing NEO is the closest and best thing to happen to the genre in years. This is one game not to sleep on.
A magnificent visual environment, a fitting soundtrack, very challenging races that are perfectly matched with the controllers and its multiplayer modes make FAST Racing Neo one of the best indie games on the Wii U and a compulsory option for fans of fast racing games.
Review in Portuguese | Read full review
Fast Racing Neo never quite recaptures the glories of the WipEout series, but it's a fast, exciting and visually impressive attempt, complete with a phase-shifting, colour-matching twist. It is a frustrating game thanks to its retro-tinged design decisions, but if you yearn for the days of pounding soundtracks, trance-like focus and pulsing visuals, this is a real blast from the past.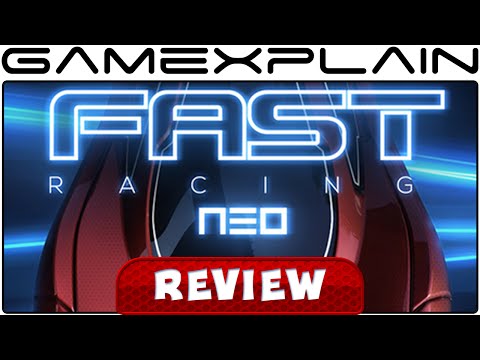 Fast Racing NEO wears its F-Zero inspiration on its sleeve, and manages to fill the void left by that series conspicuous absence. As its name suggests its fast, but it's also clever, beautifully designed, challenging, and above all, fun.
Shin'en has created a game that pays homage to F-Zero, but with enough unique characteristics to make it a stand out title on it's own. The level of polish in this game is amazing, and the fact that it's an exclusive Nindie game is just the icing on the cake. For a meager $15 you can get one of the fastest and most gorgeous racing games on any platform, which is a true testament to the programming power of Shin'en. FAST Racing Neo is easily a must own title for the Wii U, and arguably one of the best 3rd party games on the system.