A brilliant singleplayer campaign married to inventive, skill-intensive multiplayer that calls back to FPS classics of old.
It's rare that a sequel evolves on every part of the original concept so consistently for the better, but Titanfall 2 is that exception. Its feelgood movement is the foundation for both the engaging action and platforming gameplay of its strong campaign and its over-the-top competitive multiplayer. With bolstered progression, customization, variety, and a fleshed-out story, Respawn has made good on its original vision with Titanfall 2. And bottom line, it's just damn fun to play.
In a banner year for first-person shooters, Respawn delivers what might well be the best.
One of the best first person shooters of the generation, with significant improvements in depth and longevity – and even a half decent story mode.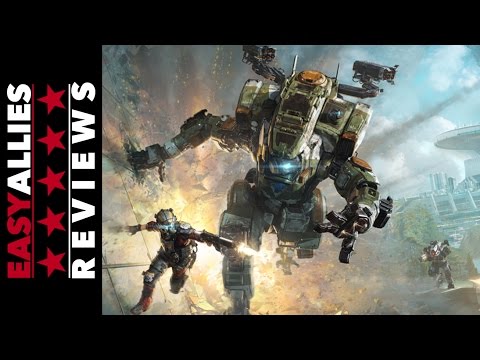 Intelligent, creative, and never less than thrilling, Titanfall 2 finally realises the series' true potential with verve and polish.
Titanfall 2 is that rare game where both its single-player and multiplayer modes are exceptional and highly entertaining in their own ways
Titanfall 2 is more measured and intelligent than its predecessor, but just as fluid and kinetic.
Titanfall 2 has the basics down, but loses much of the focus
Bold enthusiasm for a game often summons skeptic or contrarians. Pay them no heed. Titanfall 2 is impressive. Its influence will ripple through video games in the same way that titles like Half Life or Halo managed in their time. Beautiful and bold, Titanfall 2 is the pinnacle of first person shooters.
Titanfall 2 goes for feel above all else, and it feels fantastic.
Although it's a little on the short side, and its production values are a bit oldschool, Titanfall 2's single-player campaign is a really enjoyable experience while it lasts. It's very inventive and fun, and a great warm-up for the game's excellent multiplayer component, whose gunplay and controls are absolutely outstanding. All it needs is a few more maps and modes.
While I don't love every change Respawn has made in Titanfall 2, at the end of the day the positives more than outweigh the negatives. It's hard to sulk about the lack of A.I. grunts in most of the multiplayer matches when you're unloading a red hot chest laser into a mech that is hovering 50 feet above ground pelting you with missiles. There isn't a shooter on the market that can compare with Titanfall 2 when it comes to imagination, inventiveness, and flat out spectacle.
18 months after Respawn Entertainment debuted their big proof-of-concept project, Titanfall 2 delivers on the promise made by such an idea, and amazingly, goes even further. The single-player campaign is a blast while the multiplayer is solid if only slightly underwhelming. Kudos to the developer for creating a work of fun that made me chuckle, smile, and feel good. Who knew an iron giant, accompanied by clever level design, would steal my heart?
Titanfall 2 improves every multiplayer aspect of its previous installment and features a short but intense single player campaign. This game is a revolution is the first person shooter genre.
Review in Spanish | Read full review
On the one hand, you have a short, but fun single player that's more free and open than most FPS campaign, and on the other, a multiplayer that's an iterative improvement on an already fantastic game. In other words, Titanfall 2 is as exhilarating and refreshing now as the original was back in 2014.
'Titanfall 2′ is a masterpiece of game design that breathes life into the first-person shooter genre and treats its audience with respect.
Titanfall 2 realizes the dreams of its predecessor. It looks amazing, plays fantastically, and is finely tuned in virtually every aspect, from the crisp sound design to smooth platforming.
Respawn has given us a lot of the elements we wanted to see in Titanfall 2 from an excellent campaign, to diverse multiplayer modes, to varied Titan types, all while keeping the soul and excitement and speed that we have come to know and love from the series. However, the game released at a really unfortunate time that resulted in almost barren multiplayer matches and long matchmaking waits.
Review in Arabic | Read full review
Respawn Entertainment used Titanfall 2 to improve the formula seen in the first game, without compromising the experience. The introduction of a brief but entertaining single player campaign is just the icing on the cake.
Review in Italian | Read full review