A rich, detailed world, tense stealth and frenetic action. Dishonored 2 has it all.
Arkane manages to better the already exceptional Dishonored in nearly every way, creating a masterpiece of open-ended design.
With two unique sets of skills to play with across 10 themed chapters that keep things interesting and a gorgeous, evocative world that feels alive, Dishonored 2 is a remarkable experience. Though I would have liked a little bit more originality in its central story, which again revolves around a usurper to the throne. It's the stories that I've created on my own using its many creativity-enabling powers that I'll remember, every graceful, fumbling, and hilarious one of them, and I'm compelled to create many more in the months to come.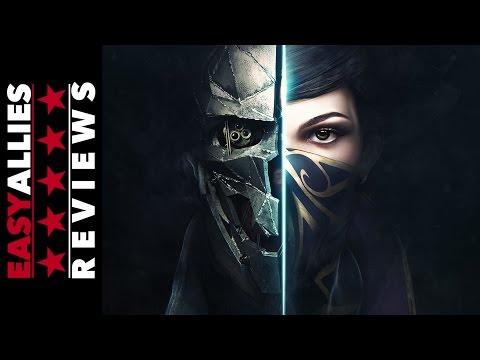 Every bit as intelligent and daring as its predecessor, and if you're prepared to be equally creative while playing it then Dishonored 2 offers almost endless rewards.
It can't match its predecessor in terms of sheer originality, but Dishonored 2's setting, stealth, swordplay, and superpowers are all superb.
Wonderful environmental storytelling and smart level design that invites players to think outside the box combine to overcome the poorly executed narrative
Dishonored's 'whalepunk' world remains stunning
Dishonored's brand of creative stealth-action mayhem returns with excellent new weapons, powers, and gameplay options that overshadow a few late-game letdowns.
The edges are rough but the core is solid. Dishonored 2 may not redefine the formula set by its predecessor, but it is still one hell of a game. The game stumbles but always manages to recover. Like a bumbling assassin that somehow gets the kill, Dishonored 2 manages to succeed in the face of almost unassailable odds.
Arkane Studios returns to the world of Dishonored, with a bigger, badder version of the game they debuted in 2012. Choose between the direct violence of Corvo Attano or the deception and guile of Emily Kaldwin. With a host of amazing power, you'll stealth your way through huge, expansive levels with amazing artistic design. Dishonored 2 is a great stealth-action game and deserves every accolade.
This is a game that makes you feel like a badass without even giving you full access to the utility belt. An experience that might not even give you something at the end of an arduous tunnel other than a brief glimpse of sunlight -- and that's enough.
Dishonored 2 will successfully function for both fans of the series and those who pick it up for the first time. With a robust side-quest system, you'll find the game has much to discover. That, and the ability to play the game how you want and rewarding you for taking a more challenging course, make Dishonored 2 a rousing success. This game isn't hard to pick up and play, but it will be almost impossible to put down.
Dishonored 2 returns with the formula that brought success to the first installment and makes it better. This game is better, bigger and with more choices. Arkane Studios has delivered a new masterpiece.
Review in Spanish | Read full review
Dishonored 2 has expanded on the original game in a number of ways, creating a world with a bigger scale. The gameplay builds on what was offered in the first game, with more options of how to approach situations and Emily's powers adding further variety if you choose to play as her. What lets it down is that it's missing a truly compelling narrative and cast of interesting secondary characters, and while it's a very enjoyable game, it lacks some of the charm of the original.
Dishonored 2 doesn't live up to the original, but it still provides great gameplay mechanics and a sense of freedom you can't find anywhere else.
Dishonored 2 proves to be a return to a classic formula that worked so well in the orginal. Strong level design, open world exploration and the ability to play your own way with powers that can be adapted or modified how you want makes the game one of the top titles of the year. Now to start working on my low chaos playthrough.
Dishonored 2 is a fantastic journey that takes you across different cities in the empire to take down Delilah's allies and reclaim your throne. It's much more challenging than the first game but also much more flexible. Playing as Emily and Corvo gives you multiple powers to experiment with and ways to traverse the maps and you can play it over and over again to find new secrets and without getting bored. However, while playing as Corvo, the game and the story will feel very similar to the first game and it's much less exciting than playing as Emily.
Review in Arabic | Read full review
A great sequel that improves and expands the already excellent predecessor but which, in part, also mantains its limits and flaws.
Review in Italian | Read full review
Dishonored 2 is one of the smartest, most well-designed games released this year. If you fancy a challenge, this one is a no-brainer.