Comfortably the best, funniest and most heartwarming game about a desperate battle over real estate, now available on PC as a good port at a generous price.
Bruising, bonkers and frequently brilliant, Yakuza 0 is Sega's cult favourite at its very best.
Yakuza 0 is another sprawling entry in the open-world series, packed with an extraordinary amount of things to do and centred around a genuinely compelling crime story. Since it's a prequel, it's also unburdened by the series' increasingly intricate backstory and thus far more approachable for newcomers than the last few Yakuza games. While its melee combat may lag slightly behind modern genre standards, Yakuza 0 still hits far more than it misses and is a big, bold and bruising tour through the Japanese underworld.
The most entertaining Yakuza game so far, that's part gangster epic and part surreal Japanese nightlife simulator.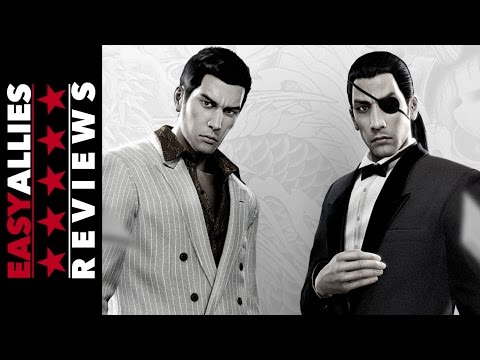 While a bit disappointing on the mini-game front, Yakuza 0 remains as strange and charming as ever, with the best story and combat the series has seen in years.
Don't be intimidated by the series' long history – this is an accessible starting point that's likely to convert you into being a full-fledged fan
Yakuza Zero's humorous world is packed goofy quests and minigames, but the story cuts through it with powerful characters and high-stakes drama.
Yakuza 0 has heart, despite some significant shortcomings
Yakuza 0 is the closest thing video games have to a prime-time soap opera.
There's a lot to love about Yakuza 0, but it's going to take me a while to work my way to the story's finale. The endless brawling turns the whole thing into a real chore, I'm afraid. But I will say that as tired as I've already become of the constant beatdowns, the story and general self-confidence of the game makes me want to power through.
This series is better than it has any business being.
It features all of the best aspects of the series with very little of the negatives, making for a game that I'll probably still be digging through by the time Kiwami releases over here.
A remarkable debut in all of its different aspects that will certainly be thanked for among those who are yet to test the franchise. It is a perfect conversion to PC that has undoubtedly earned SEGA some praise, although the lack of spanish language is still an issue.
Review in Spanish | Read full review
With the release of Yakuza 0, a smash hit franchise in Japan has its biggest chance yet of becoming a smash hit overseas, too. Yakuza 0 is not only an achievement in video game storytelling, but it's the best this franchise has ever felt, looked, and played.
No matter if you've played the rest of the Yakuza series and know it like the back of your hand, or you're just now getting started as a fledgling fan, Yakuza 0 is a must-play.
The second best Yakuza game ever after Yakuza 3 and a breathtaking mix of mini-games, fighting, mob plots and Japanese crazyness.
Review in Italian | Read full review
Yakuza 0 is the perfect game for those who never played any Yakuza to enter in this epileptic and violent world of madness made in Takashi Miike's best dreams.
Review in Spanish | Read full review
Yakuza 0 is a fine, goofy, and bombastic entry point for anyone who has wanted to see just what the hell is up with these darn Yakuza games. Buy it.
Beyond the era and location-specific authenticity strived for and achieved in this title, both the dated combat and graphics leave something to be desired.