Hand of Fate 2 doesn't change much of the concept that made the first game so appealing, but everything here – whether it's challenges, smarter deck building, companion characters, and better combat – marks a major improvement over what we saw in 2015. Repetitiveness can still be a problem, but it takes much longer for it to show up. This time around, this is definitely a hand worth playing.
Hand of Fate 2 is a satisfying sequel and a meatier dungeon crawler, but still somewhat hampered by limited combat.
While the combat may drag down the highs a bit, the core experience is a fantastic and unique trek through a card-created fantasy world
A much-improved sequel that blends disparate gameplay styles to create a compelling roguelike experience.
Hand of Fate 2 improves upon the original in every way.
Hand of Fate 2 is a welcome reminder that RPGs don't have to fall into one of two categories, and its heady mix of deck building and Arkham-esque combat make for a unique experience. Arriving on Switch it's found its perfect home, and its bite-sized story and action that are ideal for gaming on-the-go.
If the combat were just a touch more dynamic, Hand of Fate 2 would be essential. As it stands, it's still a great sequel and perfect for anyone wanting the thrills of an RPG without feeling loss. Defiant constantly prod players into the unknown and the results are always fun and rewarding.
Hand of Fate 2 is an interesting fusion between deck building games mechanics and the worl of Interactive Fiction. Defiant Development has created a nice fusion between narrative driven game with a high number of player choices.
Review in Spanish | Read full review
A nice mixture of card RPG and real-time combat, Hand of Fate 2 offers near endless gameplay that's genuinely fun and atmospheric.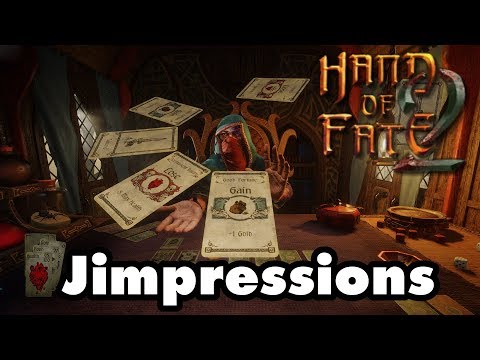 Hand of Fate 2 wisely switches away from Hand Of Fate's purity, which saves it from repetition but discards its trump card in the process.
Hand of Fate 2 has stellar writing, fun deck building, and interesting stories. What it doesn't have, however, is good combat. While I have grown to find the combat manageable, it should be fun and exciting. It stands as an odd blemish that has been carried over from the original while everything else as been prettied up. Still, I recommend giving Hand of Fate 2 a chance, especially if you never played the original. Even with the lackluster combat there is plenty to enjoy here.
Hand of Fate 2 captures some old-school RPG charm, but deals a few too many bad cards in the process. The game's appealing premise is marred by unsatisfying progression, punishing randomness, and clunky combat. Nostalgic RPG fans will find things to appreciate here, but given the popularity and diversity of actual tabletop gaming these days, it's hard to fully recommend the half-stacked Hand of Fate 2.
_______________________ "Successfully, Hand of Fate 2 capitalizes on the card-collecting aspect by motivating players to collect them all
Hand of Fate 2 is a well done sequel. It adds a lot more to the game while keeping things both familiar and fresh at the same time.
Your fate is decided by a scattering of cards across a table; dice rolls mean death or fortune and your next step could warp you to an insurmountable brawl. Hand Of Fate's mix of strategic planning, random chance, and meaty combat is both rewarding and addictive. Fighting lacks complexity and doesn't quite stand up to the eventual repetition, but this game within a game is still well worth your time overall.
Almost impossible to categorise yet utterly compelling as a result, Hand of Fate 2 brings a new and unique RPG experience to Nintendo Switch. There's just so much to enjoy here; the rewarding premise of its deck-building, the endless depth of its questing, the simple pleasure of its combat. It's taken a little while to make the transition to Switch, but the wait has been worth it; this is a mobile port that's practically indistinguishable from the version you can play elsewhere. Do yourself a favour and get this fantasy romp in your digital library right now.
Defiant Development is a Dungeon Master getting better at their craft, taking us through a series of campaign filled with new mysteries, twists, turns, and mechanics. Not content with jut polishing up the formula of the original game, Hand of Fate 2 takes a step forward and defines what a sequel should be. Improvements abound, challenges await, and every single failure begets the promise of a bigger success, if you'd chance your fate in the cards.
The quality of the overall experience is held back by the repetitive combat. It's a shame, too, as if this area of the game was improved, Hand of Fate 2 could have been something truly special.
Hand of Fate 2 improves on its solid predecessor, but it's a couple of cards from a royal flush.