Powerful friends and new mechanics make for a delightful return to the Kanto region in Pokemon: Let's Go, Pikachu and Eevee.
Pok'mon's Switch debut deftly toes the line between returning fans and all-new ones, with a few small wobbles along the way.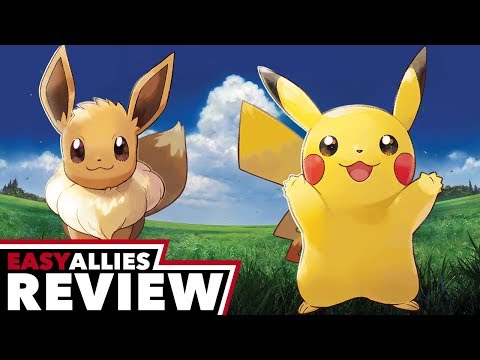 Pokemon Let's Go is a superb surprise, a fully-fledged Pokemon RPG with interactivity that brings the series to life in a way that's never been done before.
The perfect introduction to 'proper' Pokémon games for GO players but also an enjoyably nostalgic remake for existing pokéfans.
A fun stroll down memory lane for hardcore fans, and a strong entry point to the series for newcomers
A beautiful reimagining of one of the series' most beloved adventures.
Pokémon: Let's Go! is a charming, imperfect transition to the big screen
Let's Go tugged at my heartstrings all the more because of my nostalgia, of course. I found myself awash with memories of my childhood as I played.
Pokemon Let's Go is engineered to let youngsters play along with their parents, but there's a lot here for veterans to enjoy, too. It's relentlessly cute and colorful, and while the challenge level won't blister your skin, the new Coach Trainers will keep you hopping. We're still not sure about the Go-style method of catching wild Pokemon, but Pokemon Let's Go's ability to link-up to Niantic's app offers a quick and easy way to fill out your PokeDex. Game Freak is clearly getting the hang of the Switch, so bring on Gen VIII!
Pokemon Let's Go is best approached exactly like Nintendo described it. It's an experimental side game and in no way a substitute for a main series title. Luckily, we should get a chance to experience a new core title for the Switch next year. As it stands, Pokemon Let's Go is a decent morsel which will help pass the time until then.
I can't believe it took Game Freak over 20 years to give us an RPG-oriented console Pokémon game, but with the ever-changing mobile landscape and the success of the Switch, the opportunity finally presented itself. No, Let's Go is not the mainline entry that EV/IV min-maxers hoped for, but that's still on the way. If you happen to miss this return to Kanto, that's perfectly fine, but I was mostly delighted to go back.
Pokémon: Let's Go's nostalgic charm and interactive gameplay will have both newcomers and returning trainers hooked as they explore the beloved Kanto region. Let's Go mashes together these two different styles of Pokémon game into one streamlined format, and despite some slight annoyances, these remakes provide an intimate take on the classic Pokémon journey, especially when played with the Poké Ball Plus accessory. If you're looking for a refreshing take on the Pokémon RPG, then this one may keep you invested until you catch 'em all. It probably won't take long though.
Pokémon Let's Go, Pikachu! and Let's Go, Eevee! are a clear example that it's possible to reinvent yourself modifying the essence with novelties such as the direct capture of wild Pokémon, even improve it, offering a much more accessible game experience capable of satisfying new and veterans players.
Review in Spanish | Read full review
In spite of the fact that the expectations weren't high after the first trailers, Pokémon: Let's Go is able to result, not only a really good remake of Pokémon Red/Green, but the biggest step forward in the franchise. Definitely one of the biggest and greatest surprises of 2018!
Review in Spanish | Read full review
Overall, Pokémon: Let's Go is definitely something fans of Pokémon will have fun with and will also be familiar to newer players who have enjoyed Pokémon GO. However, don't be fooled by the sweet looking presentation, as there is a solid challenge to be had here.
Anybody who's tired of the games' ancient Kanto region may struggle to feel the same jolt I did, and that's fair. But PLG's brilliant tweaks on the age-old formula are so good that I hope they find their way to the next "true" generation release—and I might be sweet enough on Pokémon by then to play that game, too.
What's surprised me most about reviewing it is that I hadn't fully made peace with that fact and yet I loved this game anyway – something that's arguably a testament to how well it executes on its vision.
Good Pokémon debut on Nintendo Switch. However, the casual mechanics to attract users of Pokémon Go seems to us to play against being valiant and take a leap of quality according to the possibilities of the new machine.
Review in Spanish | Read full review
Let's Go is surprisingly shallow when compared to just about any Pokemon game, despite an appealing presentation that returns players to a popular location