Blade Strangers
Blade Strangers is a fun, friendly, accessible fighter. It allows newcomers and experienced players alike the opportunity to throw down with some great characters, without necessarily concerning themselves with one-frame-links or meaty reversals. Whilst that lack of tech-depth may prevent Blade Strangers from holding the attention of the pros, or blowing up on the competitive circuit, it's sure to be a hit at any good-natured rumble with friends, battling for pride within your own four walls.
Blade Strangers is an odd mix of zany characters and entertaining gameplay. Its unique four-button fighting gameplay is a refreshingly accessible experience for anyone that wants to duke it out with Shovel Knight, Isaac, Quote, or any of the fourteen different fighters within the title.
For the most part, I was happy with this fighter and I really hope we see some additional post-release content added, such as more characters from Nicalis published titles.
Blade Strangers is a fine fighting game.
Blade Strangers may not look like the most obvious crossover when it features characters from series that few would ever imagine starring in the same game but life is full of surprises and this fighting experience not only brings a varied cast, it also has some very simple gameplay and control mechanics that make the game accessible to nearly everyone, while also thinking that its 3D rendering could use some improvement.
Review in Portuguese | Read full review
Blade Strangers is fun for what it is, a smaller-scale fighting game with a bizarre set of crossover characters you would never expect to see in a Japanese-developed fighting game. Even the Japanese stuff that is involved is weird together, frankly. While it struggles with how simple it does or doesn't want to be, Blade Strangers has a cute vibe, an earnest sense of humor, and flashy enough gameplay that running through it with all the characters is definitely worth a few weekends in-between Evo training.
There's no denying it - this is the most accessible 2D fighter we've played in years. If you're new to the often impenetrable world of twitch-style brawlers, this serves as an ideal way to learn the craft and feel powerful without too much work. Not every one of its crossover fighters gels as well as the others, but it's still an empowering experience for beginners and intermediate fight fans. However, if you're looking for a purposefully nuanced combat system with a bit more bite, you're probably best sticking with BlazBlue's mechanical purity.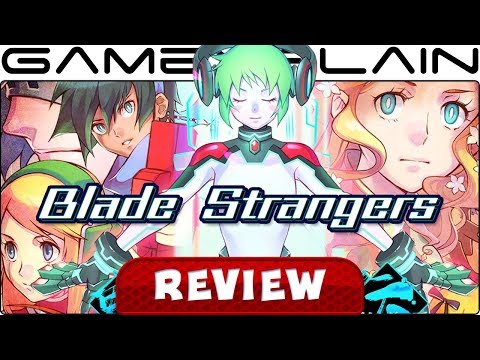 Blade Strangers finally delivers a conventional fighting game where you can beat up other fighters with Shovel Knight (looking at you Super Smash Bros. Ultimate). I'm not sure I can confidently say the game will do waves in the fighting game community, but I think it'll be enjoyable for all players of all different skill types.
Blade Strangers isn't an outright terrible game; it just doesn't feel like the concept ever got off the ground. While characters retain their charm, story suffers from a lack of originality. There is also a distinct lack of depth, as combos are fairly straightforward, with some moves using repeated inputs adding unneeded mistakes. Add in lackluster and in some cases awful sprites and it's an experience that really comes down to if you like the characters enough to see them in a new setting. If this is enough, then you might like this, otherwise it's a paint by numbers fighting game that doesn't do anything well enough to stand out beyond the fact notable characters are present.