Blood & Truth is a great example of what PSVR can accomplish with a fun, engrossing blockbuster story.
Guns and gangsters make for a silly delight in this PSVR caper.
An old school gangster shooter that makes the most of cutting edge tech
A blockbuster action movie in VR form that shows the abilities of PlayStation VR and Sony's studios better than ever before, even if the experience is ultimately rather shallow.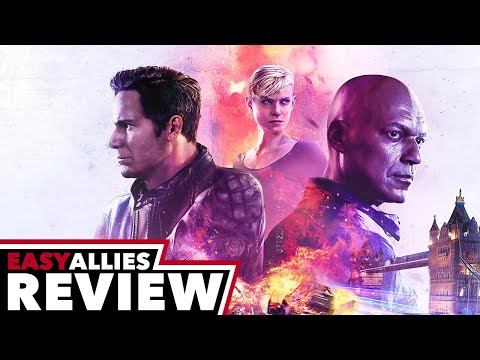 Developer SIE London captures the vibe of the city and its characters, even though the gameplay is standard shooting-gallery fare
Blood and Truth is an entertaining VR shooter with smart movement and inventive motion controls, but it does face some pitfalls.
Blood and Truth's minor story issues don't overshadow its widespread successful commitment to VR.
I didn't expect a whole lot from Blood & Truth and came away smiling. No it's not the best showcase for how far the VR industry has come as a whole (especially when the lead tech is a controller released in 2010), but it's the type of popcorn project I'd like to see more of from a major publisher in the space.
The London Heist always felt like it was leading to something much bigger, and here it is. Blood & Truth is a thrilling romp that puts you at the helm of your own blockbuster, dripping with over-the-top action as you blitz your way from one set piece to the next.
Blood & Truth is one of the most intense action experiences on virtual reality. Period. Even with its limitations and lost opportunities, it's like a action blockbuster film, one in that you're the main character. It's a shame that if falls short, and that some mechanics, like climbing, doesn't work as the gunplay, because you'll stay wanting more.
Review in Spanish | Read full review
While there's an inherent fumbliness to Blood & Truth – I'm not ashamed to admit I've dropped a grenade under my own ass, my friend – it's a game that wants you to feel and look cool. When you're in the zone, it's the closest to playable John Wick as we're likely going to get – that is if John Wick liked flipping people off and collecting vape bottles.
One of the most interesting VR games on PlayStation VR. An inmersive action experience in the veins of Guy Ritchie's movies that will please all those who seek an interesting FPS in VR.
Review in Spanish | Read full review
Blood & Truth is a first-person shooter that takes perfectly advantage of virtual reality and squeezes every PlayStation VR chip as much as we could not ask for.
Review in Italian | Read full review
SIE London Studio delivers yet again with another must play PSVR exclusive in Blood & Truth, which combines a compelling story with very enjoyable gameplay in one of the best AAA VR experiences to date.
Blood and Truth is a lot of fun, making use of a wide range of guns and all of the Move controller's capabilities.
Blood & Truth is an exciting shooter with some deft VR touches; its forgettable plot and characters are made up for by the intricate details of its world.
From the compelling and well-acted story to its engaging combat, SIE London Studios has delivered one of the best VR experiences on Sony's platform. Like a hard-boiled blend of John Woo and any good London heist movie, Blood & Truth stands tall as one of the best PSVR games to date.
In my opinion, there are only a handful of games that can be categorised as a system seller for Sony's headset; something that would make it worthwhile laying down the cost of VR. Games like Beat Saber and Astro Bot have proven themselves at making VR work in its own right, and now you can add Blood & Truth to that list. And if you already own a PSVR you would be doing yourself a disservice by not going out and picking this game up.
Blood & Truth is the macho simulator par excellence. The tracking is reliable and accurate, while the abundance of crazy scenes guarantees an explosive and varied adventure, at least while it lasts. It has a serious need for extra content, but its heart is in the right place, in the midst of a thousand explosions and a shower of bullets and broken glass.
Review in Italian | Read full review