Concrete Genie
Short and very sweet, Concrete Genie is a spellbinding experiment in player creativity.
A small, perfectly formed adventure
Concrete Genie takes you on a uniquely heartwarming journey teeming with creativity and charm that will capture your imagination.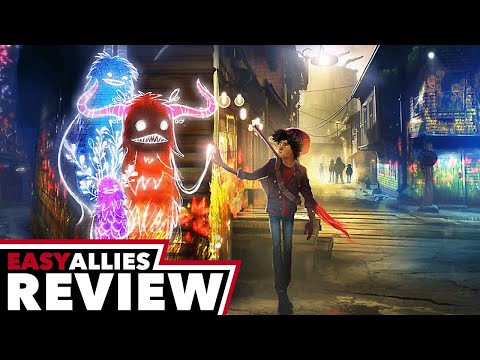 A peculiarly underdeveloped riff on Jet Set Radio that never manages to find anything interesting to do with any of its many gameplay mechanics and story ideas.
Bring life and love back to a desolate town with the help of your paintbrush and some really fun parkour.
The story of Concrete Genie is well-told and relatable, a classic bullies-turned-friends story of empathy and growth with some real storytelling flair, including striking illustrations and a masterful, coherent use of a variety of art styles.
Concrete Genie is certainly easy on the eyes and ears, with brilliant colors popping out of the screen and a light, airy score to coaxe life out of your paintings. It even successfully switches around the perspective of a strained parent-child relationship compared to what we've seen in other games. Unfortunately the monotonous nature of everything in between creating Genies, from dodging bullies to dousing Denska with Super Paint, drags it down.
Nothing is particularly extraordinary nor is any one aspect less than solid but there's a commitment to the vision here that had modest and realistic goals. Concrete Genie paints within its humble parameters and still makes a lovely piece of art even if it isn't The Starry Night.
Sometimes it's okay to just unwind with a lower-stakes adventure, and that's where Concrete Genie comes in. It might not be on a lot of Game of the Year lists, sell as well as other open world games, or even be referred to as a "classic" in the years to come. But I'll never forget it. Go in with an open mind and a few caveats.