Apex Legends is squad-based battle royale done right, complete with cool heroes, a superb communication system, and polished mechanics.
Apex Legends is a quiet revolution in how we communicate in games, and an excellent team-based battle royale I can recommend to anyone, caveat-free.
An immaculate battle royale that could be sold at a premium price point, but instead is one of the best free-to-play games ever.
Respawn successfully blends battle royale and hero shooters to great effect, raising the bar for free-to-play first-person shooters
Respawn hammers out a lot of the dents in battle royale, and its addition of some of the best ideas in shooters gives a new shine to the genre.
It would be remiss of me not to point out the small but diverse roster of characters in Apex Legends. Out of the current band of eight Legends, the presence of four people of color and two LGBTQ characters is a heartening first step. In particular, the mysterious hunter Bloodhound is probably the most — if not the first — prominent example of a nonbinary character in a mainstream shooter. Yet Apex Legends also faces the same narrative challenges that the relatively progressive Overwatch had with inclusivity. In a genre that carries a greater emphasis on gameplay rather than storytelling, injecting meaningful representation can admittedly be a trying process.
Apex Legends spices up the battle royale formula with hero-based shooter pizazz and its revolutionary pinging system, which helps everyone feel welcome to the team. Though its Season One rollout has been disappointing content-wise and its visual flair remains bland, Apex Legends still has the solid foundation necessary for a free-to-play shooter to survive in the long run. And with 50 million players reached in its first month, it's not like it's slowing down anytime soon. We're all jumpmasters now.
Apex Legends has raised the bar for battle royale games. It minimizes downtime, places an emphasis on intense gunfights, and replaces nameless characters with a memorable bunch of heroes.
Ultimately, I'm excited to see Respawn's plans for the future. Although Apex Legends is fairly light on content at the moment, after having played it for over a week now, it's become my new favorite battle royale game. Matches are quick enough that I never feel burned by a sudden loss and jumping back in with different legend makes it more addictive than any battle royale I've played so far.
All things considered, Apex Legends is the battle royale game players have been waiting for. It nails the movement and terrain traversal while ensuring weapons feel meaty and responsive. Even the inclusion of light hero shooter features melds surprisingly well with the battle royale genre. Respawn Entertainment has set a new gold standard for what players should expect from their battle royale experiences.
Apex Legends is a team-based battle royale full of beautiful ideas and with a very intriguing tactical approach.
Review in Italian | Read full review
Apex Legends is a superb game featuring an excellent array of heroes, tight, responsive gun play, smooth movement, smart communication system and an astonishing level of polish in a free-to-play game.
Apex goes so much further, reaching into every corner of a well-trodden formula and lavishing it with saucy new ideas.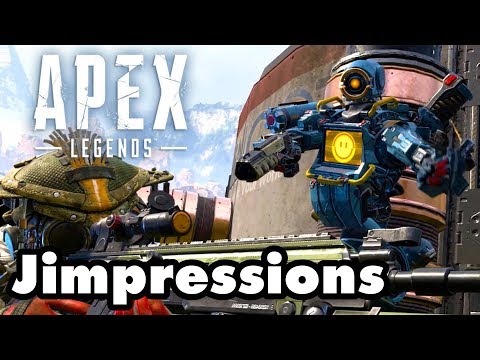 Respawn's Apex Legends is easily one of the better battle royale games on the market, and while it's not perfect, it has plenty of potential and room to grow.
The latest Fortnite competitor is a sleek sci-fi battle royale blaster that demands skill and rewards with exhilarating fun
If there is one thing that Respawn's potential Fortnite killer Apex Legends appreciates, it is the delights of a properly executed slide.
The game is one for the long run, bringing some fantastic new features to the genre that set it apart from its rivals.
Overall, I've found more to enjoy in Apex Legends than to gripe about, particularly in the game's colorful cast of characters
Apex Legends is a surprise addition to the battle royale genre that rewards players for team play rather than playing maverick and gunning for high kill counts. If Respawn can keep new content and characters flowing, Apex Legends easily stands a chance at being the best in the genre.