Astral Chain is a great action game by PlatinumGames that presents an innovative combat system, epic boss fights, and the great soundtracks the developer is known for.
Review in Arabic | Read full review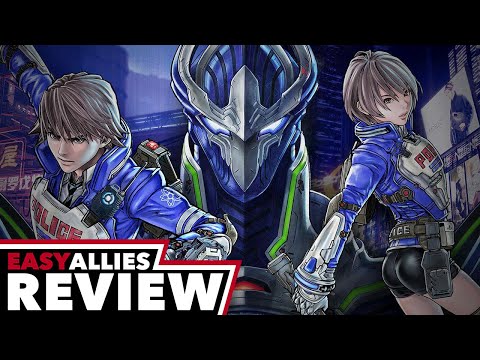 Astral Chain features a perfectly realized world filled with wonderful characters and awesome architecture. It runs perfect on the Nintendo Switch and looks stellar, too. The predictable story is one of the only faults of this over-the-top, incredibly fun action game.
Overall 80 - Astral Chain successfully combines great action, exploration, and puzzles together with a strong narrative. Despite a few problems with pacing and repetition, it's a fun, engaging, and above all original experience.
Astral Chain is a new IP that feels like a must have for Nintendo Switch users looking for a new hack-slash to dive into
While it may not be for everyone per se, Astral Chain blends a beautiful story and world together with tight action as you fight to save everything from enemies both and far. If you love Platinum Games, and you want a truly new and fresh experience on Switch, get Astral Chain.
Astral Chain is every bit as awesome as it looks in motion, which is to say it's downright incredible.
Sprawling, varied and constantly stylish, Astral Chain is a very different breed of action game that ranks with Platinum's best.
Another classic action game from Platinum that's so full of ideas it seems fit to burst and yet everything not only works perfectly but is filled with an infectious sense of goofy fun.
Astral Chain is fun from start to finish, and gives the player plenty to chew on in terms of side missions and post-game content
Astral Chain is the best new Nintendo franchise since Splatoon
Nintendo Switch exclusive Astral Chain elevates the stylish action genre with an inventive, gratifying combat system and an unrelenting sense of style.
Astral Chain is the directorial debut of Nier Automata designer Takahisa Taura, and it proves that he's a creator worth paying attention to. Part melodramatic anime, part overly complicated Tamagotchi, it's an eminently playable action role-playing game that delivers the pleasure of good teamwork in a way few singleplayer games accomplish. Building on action design ideas seeded in Nier, Astral Chain encourages you to bond with your beloved pet cybermonster both on and off the battlefield. Then, it teaches you how to fight as one.
Whatever criticism you can throw at Astral Chain, you can't say it isn't unique. In the first few hours, I was all over the place when it came to an assessment, as it can take some time to really turn it up. But when it does it just clicks, and I don't want to stop playing it.
Astral Chain is one of the best experiences of the genre for Nintendo Switch. PlatinumGames has been able to revitalize the gameplay and take complexity and sensations one step further than in previous works of the study.
Review in Spanish | Read full review
Astral Chain is a brilliant action adventure game, with everything you could expect from a PlatinumGames title: fast and deep combat, rich visuals and a surprising story that reminds us of Nier Automata,
Review in Spanish | Read full review
Astral Chain boasts the same winning elements of Platinum's finest work – exhilarating combat, characterful visuals, and a compelling story – but it loses a bit of personality. Where Bayonetta and 2B provided an emotional centre point for the fantastical storytelling, Astral Chain's unnecessarily silent protagonist is a charmless creation saved by an utterly charming world.
am insanely impressed with the world that Platinum has built-in Astral Chain overall. It is gorgeous, the plot is intriguing and it feels like something new when it comes to the investigations and police work.
This is absolutely a worthy successor to Nier Automata – and like that game, Astral Chain is definitely a contender for one of my favourite games of the year.
Astral Chain is something special that only Platinum Games could develop: a game both satisfying and tough.
Review in Italian | Read full review