Now THIS is how you remake a classic. Resident Evil 2 expertly reanimates the horrifying atmosphere and moments of extreme tension that made the original so revered.
A tense, challenging, and beautiful remake of a classic survival horror game, and with enough fresh ideas to make it feel excitingly new.
Capcom finds the perfect middle ground between old and new in this sterling remake.
A beautifully made and reverent take on the original game that works both as a remake and a completely new game.
A fantastic big budget remake of one of Resident Evil's most popular entries, that manages to look state-of-the-art but in terms of gameplay finds a perfect balance of old and new.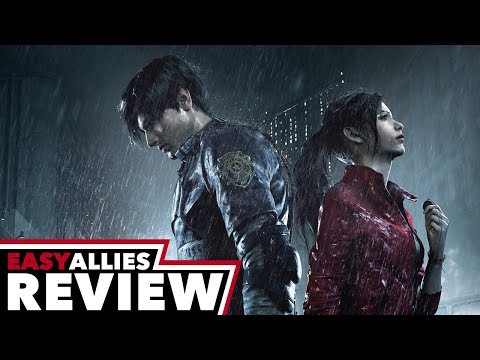 For Resident Evil fans this is a must-play, but even those without nostalgia for RE 2 will have a good time
Capcom's reimagining of Resident Evil 2 for PC, PS4, and Xbox One embraces its past in a fresh, exciting way.
Capcom, on a far less dangerous scale, has not always known how to handle its own creation. After mutating from quaint horror to buffoonish action to back again, the Resident Evil series has been wildly inconsistent. But back-to-back Resident Evil games that showcase the very best of survival horror is evidence that Capcom may have its monster under control
Resident Evil 2 provides some of the best moments in the franchise. That can mean turning to flee as an unstoppable tyrant stomps closer and closer to you, using a flamethrower to dispose of a plant-infested zombie, or puzzling out where to place the Queen piece in a puzzle. The raw experience of playing Resident Evil 2 is visceral, bloody, and often incredibly rewarding.
The sense of fear and terror when playing Resident Evil 2 never leaves you. It's unlike anything else I've encountered in a Resident Evil game previously. I'm just going to go ahead and call it: Resident Evil 2 is the best Resident Evil game in the franchise and represents a series and developer at its peak. Don't be distracted by the pretty graphics and gore, Resident Evil 2 is straight-up dangerous.
My complaints about the Resident Evil 2 remaster are minimal. An argument could be made that Capcom could have done more, but the spirit of the original has been preserved and in many cases, enhanced. I hope every legacy game in the series gets this loving treatment, as I'll probably be playing them for the rest of my life.
Whether you're a long time fan or a newcomer, Resident Evil 2 remake is an absolutely fantastic game. It's the best in the series yet and wholly outshined my most optimistic expectations. It doesn't supersede the original, but it's an excellent retelling, a wonderful update, and an excellent experience.
Resident Evil 2 Remake is not only a must-have for all of the players that were not able to enjoy the original game back in the day, but it is also a homage to the players that did manage to play it.
Review in Spanish | Read full review
This Resident Evil 2 remake is a phenomenal update of a classic game. It combines the best of the original's narrative and puzzles with the ammo crafting of Resident Evil 3 and the action gameplay of Resident Evil 4 to create a hybrid that still manages to feel like classic Resi.
Resident Evil 2 is an impressive remake; extremely faithful to the original 1998 game, yet more accesible. An authentic survival horror game that brings back the best moments we spent with the Capcom franchise.
Review in Spanish | Read full review
You'll also come across quite a few surprises in terms of boss encounters and scenes that definitely weren't in the original game that I won't spoil here, but suffice it to say, you'll be left with your jaw hanging open. Unfortunately, the game doesn't take the opportunity to flesh out or expand on some of the more ambiguous parts of the Resident Evil lore, which I would have liked to see, but given that it does deliver with new content all its own, that's not a huge issue.
The modern-aesthetic upgrade more than makes up for the game's lowest lows. Horror fans should immediately buy.
I can think of Resident Evil 2 Remake as a completely different game from the original game, which is really how the game offers a new camera perspective and different from the original with different audio representation and performance and different monsters, but in the same original story template, I enjoyed very much with this game that brought me back to the series and made me intend to experience the other parts I had missed in the past years and made me look back on Capcom's return to the right path with its latest games.
Review in Arabic | Read full review
For my money, Resident Evil 2 Remake is right up there with Resident Evil 4 as the best game in the series. It's the perfect blend of nostalgia and the new, marrying a classic game with contemporary game design, and a prime candidate for those Game of the Year lists. In January! Capcom clearly has no chill.