Rage 2's weird and messy world offers a ton of fun with an upgrade system and shooting mechanics that perfectly compliments its unrelenting thirst for carnage. However, the game's poor story, voice acting, character design, and its lackluster boss fights pegs the game down a notch or two.
Review in Arabic | Read full review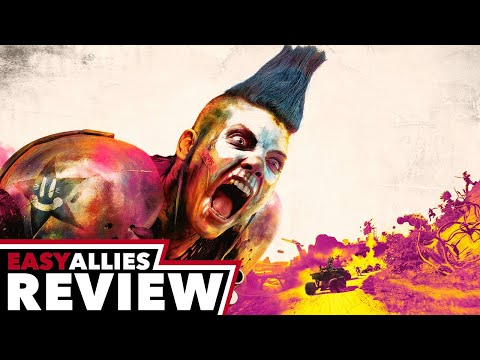 Rage 2 tries to do so many things in such a small timeframe that it forgets to do anything original or inventive with its many unfocused components. Its combat alleviates these issues in short spurts, but it's not enough to weave a cohesive thread through this confused trip through a familiar wasteland.
Despite the story and method of progression being a bit naff, RAGE 2 is one of the most satisfying FPS games I've played in a long time. With its multitude of skill trees, funded by both cash and secondary pick-ups, there's a lot to try and unlock which will enhance your experience as you mercilessly cut off the heads and spill the guts of your foes. The vehicles are heavy and control perfectly, with the exception of the one which would have made my life so much easier, and the combination of weapons and abilities keeps the action diverse and interesting from beginning to end. My main complaint about RAGE 2 is that it's a little too big for its own good. A more compressed map and fewer skill trees may have made it a more refined experience, but at least there's plenty to do and see in this post-apocalyptic world. I can't wait for the DLC expansions to arrive for the game as It'll give me a reason to play on, post-completing the game, and gear myself up for the upcoming content. RAGE 2 isn't a narrative-focused adventure, it's a superb shooter encased within a beautiful world which is held together by a loose narrative.
The best Avalanche Studios game so far, but still a mediocre experience.
Review in Russian | Read full review
A pretty well done FPS game, with some problems with it structure as an open world game.
Review in Spanish | Read full review
Rage 2 might be fun for newcomers or fans of crazy shooters, but it certainly dissapoints the fans of the original Rage.
Review in Persian | Read full review
Over all, Rage 2 is a good game, but not worth buying if you're already an established fan of open world games.
RAGE 2's on-foot action is some of the most fun we've had this generation. As a shooter it's undeniably top tier, but the combat constantly has to fight for its rightful place in the spotlight. All the bright pink paint in the apocalypse couldn't stop the game's open world from feeling lacklustre, and the vehicular stuff struggles throughout. RAGE 2 needed the chaos and insanity that its marketing campaign was so eager to push, because we've ended up with a disappointingly safe objective-based grind, in which the excellent combat is the only thing strong enough to string you along.
There simultaneously needed to be a lot more of Rage 2 and lot less; a lot more depth in its driving, story, and missions and a lot less repeated content and long stretches of empty landscape
Rage 2 could be amazing, but it fails on wrong game design, short story and lack of character.
Review in Turkish | Read full review
The amazing gunplay and combat of RAGE 2 shouldn't easily get so stale, but because of an open world all too familiar and a story that hardly gets going before it ends, players are left to rule over a kingdom of dirt.
Rage 2 isn't the biggest game in the world. Nor is it the prettiest, or the most polished. Once you've explored its tame open world enough to open up your combat options however, it doesn't really matter.
Rage 2 is one of the year's most disappointing titles. However, the shooting is some of the best this generation when you've finally dedicated enough time to unlock different abilities and poured a couple of upgrades into one of the best shotguns in gaming.
On paper, the alliance between cult developer id-Software and the still quite young open-world enthusiast Avalanche Studios should actually work out brilliantly, the digital reality unfortunately now shows us a different picture. While id-Software masters its paradediscipline in the shooter segment not surprisingly with the unerring mixture of known retro charm and modern action fireworks, the open game world with its lack of motivation and fatal unkindness limps ahead. The repetitive quests paired with the monotonous, imposed jaunts and the flat, emotionless story, skilfully help RAGE 2 to gamble away tons of potential. If you are looking for entertaining entertainment with outstanding gunplay and can accept various weaknesses and an abundance of repetitions, you should take a closer look at RAGE 2.
Review in German | Read full review
Over a dozen hours or so I never felt like more than just an errand boy for each of the three main characters throwing me around the world — go here, shoot some guys, come back… it was just rinse and repeat.
Rage 2 is one of the most exciting, entertaining and craziest games that i played in this generation. It's an amazing mixture of Rage, Doom and Mad Max with so many skills, guns, upgrades, vehicle combat, costumization and of course "Adrenaline." If you are looking for a deep story and memorable characters, it's not your game, but if you want one of the most engaging and deep gameplay and gunplay of this generation, Rage 2 is exactly one of the best choices that you should not miss at all.
Review in Persian | Read full review
Rage 2 was one of the most anticipated games of 2019 but unfortunately didn't manage to fulfill our expectations as much as we wanted. Just like other titles from Avalanche and ID Software, combat is enjoyable and satisfying while story is very stereotype and void of any charm. Besides that, it doesn't take long before gameplay becomes boring because of inappropriate structure of objectives and empty world of the game. Maybe if Rage 2 wasn't an open-world game and ID Software developed the game on its own, the results would've been much better. In any case, if you want to keep yourself entertained until the release of other major first-person shooters, you can give Rage 2 a try.
Review in Persian | Read full review
Rage 2 is an absolute fun, gives the player lots of toys to play with thanks to its big budget, but fails miserably when it comes to story telling.
Review in Turkish | Read full review