Visually beautiful and emotionally affecting thanks to strong characters, A Plague Tale suffers from missing gameplay variety and tonal inconsistencies.
A Plague Tale: Innocence has a great story, but the gameplay has a level of convenience that undercuts the perilous world.
No Recommendation / Blank
May 13, 2019
Children band together against the darkness of a collapsing France in this bleak and beautiful if somewhat rickety medieval fantasy.
An impressively unique stealth adventure which mixes a gothic horror atmosphere with a touching tale of two siblings surviving against the odds.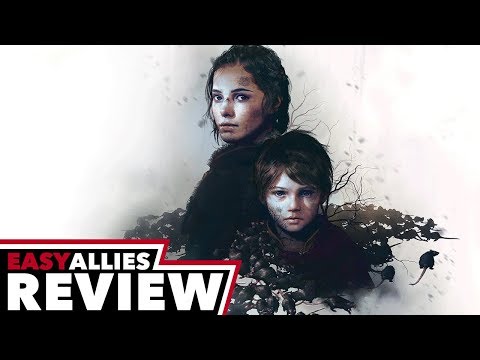 If you're in the mood for a perfectly respectable, undemanding weekend game, A Plague Tale: Innocence is for you, though fair warning: The sight of so many dead bodies might shock anyone watching over your shoulder.
A Plague Tale excels in its narrative and setting, but the moment-to-moment action is uninspired
A Plague's Tale's emotive story of resilience is underscored by a backdrop of screeching rats, the unremitting horrors of war, and a genuinely likeable cast of characters.
A Plague Tale: Innocence is a grim, gripping, and fantastic adventure. The solid stealth gameplay offers little new, but the unique setting, affecting characters, excellent dialogue, and oppressive atmosphere more than redress that linearity. Add to this a lean design, an emotive score, and a commitment to narrative focus, and A Plague Tale deserves to be heralded as one of 2019's very best adventures.
It gets in its own way by deciding that something bigger was needed to keep the player's attention. It's a sour end to an otherwise great game.
A Plague Tale: Innocence is a well crafted, classic adventure that offers a solid story with charismatic characters. However, it all goes wrong during the final chapters, when the game loses its head, the story becomes violent nonsense and the gameplay turns out to be highly frustrating.
Review in Spanish | Read full review
Asobo Studios offers us a very narrative adventure, spectacular at times and with a realistic atmosphere.
Review in Spanish | Read full review
A Plague Tale: Innocence proves that feisty young women are the new heroes of single player narrative adventures, and Amicia can proudly stand alongside Aloy and Senua. Asobo Studios have knocked it out of the park with a compelling story, superb graphics, and excellent music. Loved it.
The latest Asobo Studio release is grim, gory, and a bit of a grind.
A Plague Tale: Innocence is a game that deserves to be experienced by everyone. Although there is no possibility to choose a precise degree of difficulty, it manages to stimulate without ever being frustrating, highlighting a lot of skill in managing the rhythm.
Review in Italian | Read full review
Yes, A Plague Tale: Innocence is a great experience and you have to immerse yourself in it.
Review in Spanish | Read full review
A compelling plot, grounded characters who aren't instant heroes, crafting and upgrades without arbitrary levelling and some beautiful environments to solve your way around,
A Plague Tale: Innocence has some clunky writing in places, and its play gets stale after a time, but it prevails with a compelling mystery and a beautiful world.
I've been very positive about A Plague Tale so far, and it is indeed a good game.
With a magnificent storyline replete with devious puzzles and gorgeous vistas, A Plague Tale: Innocence is as beautiful as it is disturbing. A survival stealth title at its heart, Asobo Studio's approach to the story of the bubonic plague is completely unique, and one I can't recommend highly enough.