Battle Chasers: Nightwar is a gorgeous, challenging RPG that's light on story but big on tactically satisfying battles.
Battle Chasers: Nightwars' combat and activity-dense world scratch the JRPG itch, even if the storytelling and character development leave a fair bit to be desired. Its attractive dungeons and outdoor regions are fun to get lost in, and there are just enough hidden treasures to claim to make exploration rewarding in a more than visual capacity. I'd be very pleased to see more turn-based indie RPGs along the same lines as Nightwar in the future - and the ending heavily suggests this won't be the last we see of this universe in RPG form.
If you're in the mood for a grind, Battle Chasers delivers more than enough. Nightwar is full of tense action, but you have to be patient to make it to the end
Lots of work has gone into Nightwar since its first release, and the balancing improvements make it an easy game to recommend on all platforms.
I didn't go into Battle Chasers: Nightwar expecting much of anything, given the development studio's relative youth as a company and the spotty record of Kickstarted games. However, Nightwar's focus on style and character, coupled with a mostly excellent combat system, kept me hooked for much longer than I had imagined. Whatever your familiarity with its source material, this game builds a beautiful world with a surprising amount of depth just beneath the surface.
Battle Chasers: Nightwar is a well-put-together and challenging old-school RPG. There's something here even if you have no love or knowledge of the comic series. While there are whispers that this game might mean Battle Chasers will return to print, I'd honestly prefer another game for this cast of characters. Now I'll just wait for the Switch version so I can play it all over again.
There is so much to love about Battle Chasers's take on the JRPG. Its strategic elements, well-crafted characters (although the attempts at self-referential humour with Red Monika's physique are not always successful), brilliantly judged battle system, and satisfying crafting all combine with a good, albeit not groundbreaking, fantasy narrative. Sadly it's plagued by frequent crashes which impact the score at launch, but this game is otherwise easy to recommend for fans of the genre.
The return of Joe Madureira to the videogame industry comes with a great game. Amazing visuals and artistic style that match perfectly its great gameplay mechanics.
Review in Spanish | Read full review
Battle Chasers: Nightwar is a new return to the famous Japanese RPG games, with amazing world and good characters but not tied well to each other and highly designed dungeons in the game.
Review in Arabic | Read full review
A game that pays an homage to the old RPG genre while still being innovative in some ways. Sadly this port isn't perfect.
Review in Spanish | Read full review
A RPG RPG with an old school RPG spirit, that may not be the best choice for those used to more modern RPGs because of its rhytm. Besides that an excellent game.
Review in Spanish | Read full review
Battle Chasers: Nightwar will conquer you from the beginning with its mix of JRPG combat-system, western aesthetics and gameplay for all tastes.
Review in Italian | Read full review
Battle Chasers: Nightwar delivers a satisfying game, but it really shines in moments where it blends a comic book with an RPG seamlessly. Fans of the series will fall in love with it, but it doesn't revolutionize the genre or come close to reaching the upper echelons of it.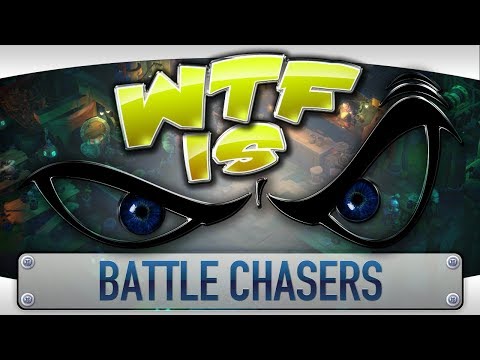 Battle Chasers: Nightwar is a gorgeous RPG, with expansive randomly generated dungeons, compelling combat, unique characters, and an amazing soundtrack. Teleportation across maps and within dungeons encourages exploration, and the ability to select dungeon difficulties, as well as the fact that essential game elements, such as crafting and fishing, can only be done inside dungeons creates meaningful replayability and naturally sends you crawling through completed dungeons again and again. Featuring animated comic panels, and avoiding long-winded lectures about history and lore, Battle Chasers: Nightwar is an indie game which delivers a top-tier JRPG experience.
Battle Chasers: Nightware is pretty typical as far as turn based RPGs go, but its tight combat, beautiful production values and faithfulness to its source material make it worth checking out on Switch.
Battle Chasers: Nightwar is easily the best turn-based RPG I have played in a long time. There are a bunch of different characters to customize; hundreds of monsters to battle; gobs of loot to find, and a reasonably good storyline that keeps the game moving along smoothly. Add to that a fair starting price (that is now a heck of a deal), and you have a 40-hour beast-bashing game to chase after.
Gorgeous to look at and packing some seriously satisfying dungeon dust-ups, Battle Chasers: Nightwar is a great RPG. Its story may struggle to surprise and its pacing is a little on the slow side, but stick with it and you'll get lost in a deep and rewarding adventure.
It might come from a small development team, it might be rough around the edges, but it's could be one of 2017 most unexpected RPG hits that more people should be aware of.
Many bugs in console version and shortcomings cause a slight disappointment. But at the same time Battle Chasers: Nightwar remains an enthralling and strong RPG, which can be even better after all the fixes. In the meantime, the console version is worth playing only if you really miss turn-based battles and fabulous adventures.
Review in Russian | Read full review