Star Wars Battlefront 2
Battlefront 2 does a lot of things right, offering a Star Wars experience that's stunning to look at and wonderfully faithful to the source material, but it stumbles hard on the delivery.
No Recommendation / Blank
Nov 13, 2017
DICE goes big in a Call of Duty-baiting package that's as maddening, uneven and spectacular as the Star Wars films themselves.
A spectacular, occasionally very fun tour of Star Wars battles that disappoints with a boring story, crappy progression system, and endless grenade spam.
A very strong multiplayer offering tarnished by overly complicated character progression, and a lavish, beautiful story campaign lacking in substance or subtlety.
A revamped progression system and the demotion of loot boxes to a purely cosmetic role finally gives this ambitious Star Wars game the redemption it deserves.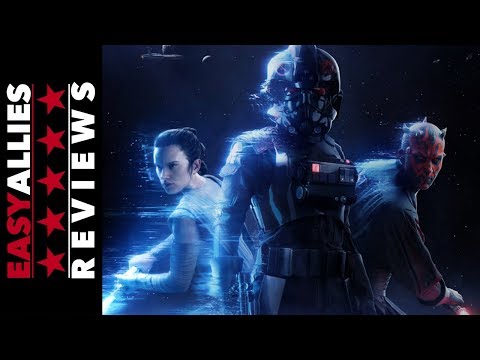 A thrilling Star Wars moment can end up feeling gross when you're reminded of the microtransactions mid-match
Star Wars Battlefront 2 is made up of many different parts that are pretty good, but the whole is consistently undermined by poor choices in the game's multiplayer economy. No aspect of Battlefront 2 is beyond redemption, but it's hard to fall in love with any part of it, either. It's mostly a disjointed, sporadically fun collection of modes set in familiar Star Wars scenes. Because players have no idea what is really being sold to them, or when, you have a big-name launch that gets in the way of itself more than it creates fun.
While its main narrative feels unresolved, and the general loop of the multiplayer carries a number of issues, Battlefront II still manages to evoke that same sense of joy and excitement found in the core of what the series is all about. But as it stands, the biggest hurdle that Battlefront II will need to overcome--for its simultaneous attempts to balance progression with genuine feeling of accomplishments--is deciding on what type of game it wants to be.
Electronic Arts makes missteps at every turn in this fundamentally flawed follow-up.